The health conscious lot out there, this is a great news for you! Fitbit, the American company that builds wireless and digital wearable devices and apps for tracking fitness, has launched their first Universal Windows app for Windows 10. The company announced this via latest press release, published on August 13th. The app does exactly what Fitbit devices do; it motivates you to stay on the track of becoming and remaining healthy!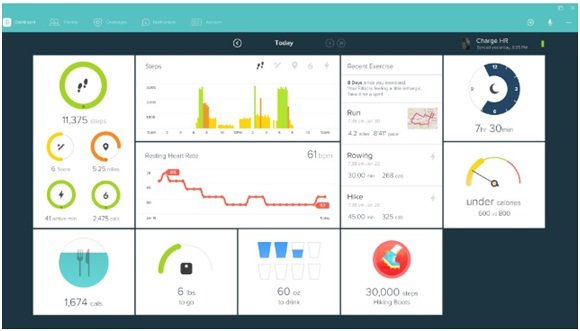 The Fitbit Universal Windows app is a highly engaging app with fluid design. The Fitbit app lets you personalize and monitor your health-related activities; such as exercise, diet, weight, overall physical activity and even sleep. The app easily connects with all your Fitbit devices, when installed on any of the Windows devices. Thus, the Fitbit Universal Windows App lets you track your health, even on the go; in turn, helping you to reach your health related goals. Most importantly, the Fitbit Universal Windows App for Windows 10 will also be available for Xbox One and Windows 10 mobile later this year.
Features of Fitbit Universal Windows App
Fitbit is an old player, when it comes to products related to activity and fitness tracking. The company has launched numerous wearable devices, which they call it as the 'family of products'. These devices include Tracker, Ultra, Fitbit Zip, Flex, Force and the most advanced wristbands like Fitbit Charge HR and Fitbit Surge. All these devices have different features; however, only one goal; to track your health and fitness. Out of these devices, Fitbit Surge is more like a smartwatch that can monitor heart rate, user's pace, distance and even elevation using GPS embedded in the device.
Fitbit has published its most notable features of its Universal Windows app in the press release. Here are few of them:
Updated live tiles that have been redesigned with more information and new notification types to let you quickly access your most critical data to better enable you to reach your personalized health and fitness goals.
Quick actions to help you log and track your health and fitness activities, such as food, water intake and exercise, as well as set alarms more efficiently with the simple click of a button, encouraging more frequent logging.
Cortana support allows users to speak commands on Windows 10 tablets, PCs and mobile phones – such as "Fitbit, I ate chicken for dinner" or "Fitbit, I went for a three-mile run" – for automatic and easier food and activity logging.
The app is free and you can download it from Windows Store.
Important Note: Users need to have a Fitbit account to use the Fitbit App for Windows 10. New users can sign up for a free account at the sign up link.