FixWin 10.1, the free portable Windows repair tool, has been released, making resetting of several Windows 10 functions that may not be working properly, very easy! Apart from letting you Run SFC, Run DISM, Reinstall Microsoft Store apps and create a system restore point with a single click, it now allows you to reset several tools or functions with a single click as well!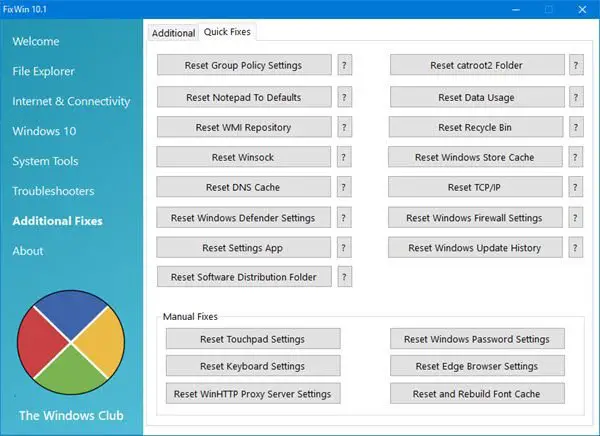 FixWin 10.1 released
FixWin 10 for Windows 10 is a portable freeware that allows you to fix and repair Windows 10 problems, issues and annoyances.
The changelog for FixWin version 10.1 is as follows:
1. Windows 10 v1903 Support
2. Creating Restore Point is now done manually.
3. Fix multiple entries of OneDrive in File Explorer (Windows 10)
4. Additional > Quick Fixes :
Reset Windows Defender settings
Reset Settings app
Reset Windows Update History
These buttons direct you to posts on this site:
5. Windows Sandbox error (Windows 10 tab)
6. Windows Update Error 0x80070057 (Windows 10 tab)
7. Telnet is not recognized as an internal or external command (Internet & Connectivity tab).
8. WslRegisterDistribution failed with error: 0x8007019e & 0x8000000d. (Windows 10 tab)
Clicking on the '?' sign next to each fix will either open up a pop-up box or take you to our link explaining what the fix does.
FixWin is a great free tool to have downloaded and ready on your computer – as you never know when you will require it to fix your Windows free. Developed by Paras Sidhu for TheWindowsClub, it is portable, it is free, and it comes to you from our stables and so is highly trustworthy! You can download it by clicking here.
Before using it we always recommend that you create a system restore point first so that you can reverse the changes, should you wish to.