Seems days are not far when we would see flexible, bendable displays in actual use. The concept of flexible, bendable screens have been there since some time, but now many organizations including Samsung which may even lead in this technology may provide this technology in actual use. More prototypes are being displayed at various shows. At CES 2013, Samsung has made an impressive display of these flexible displays used in Smartphones and even large curved TVs.
Brian Berkeley, head of Samsung Electronics's display lab in San Jose, demonstrated a phone that consists of a matchbox-sized hard enclosure, with a paper-thin, flexible colour screen attached to one end. The screen doesn't appear flexible enough to fold in half like a piece of paper, but it could bend into a tube.
The screen uses organic light-emitting diodes, or OLEDs. OLEDs are already in use in many Samsung Smartphones, but they are using Glass screens. In the Flexible displays, Samsung used thin plastic. Samsung is calling it 'Youm' OLED display.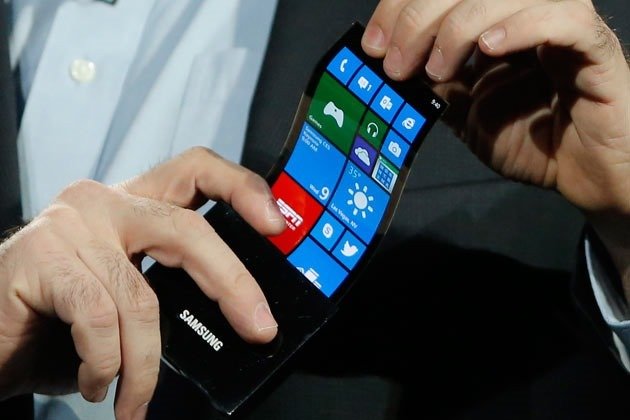 During the Samsung's keynote address, Eric Rudder, chief technical strategy officer of Microsoft displayed the Windows Phone prototype with a flexible Youm OLED display.
Also check the video at source of these flexible display shown at Samsung's Keynote, showing the device with screen that goes beyond the edges.When you receive a message, it gets shown on the curved edge of that device. The content now flows on the edges of the screen too. Very impressive! Samsung didn't say anything about when these flexible displays might be commercialized. Hope this technology of bendable, foldable and roll-able screens are put into practical use soon.
Via.