Two former Google executives Sridhar Ramaswamy and Vivek Raghunathan are launching a whole new search engine Neeva to take on Google. Unlike Google, Neeva will provide users with an ad-free experience. Refusing to serve ads may be part of Neeva's strategy to stand out and compete with the Sundar Pichai-led company that dominates the web search engine space hands down.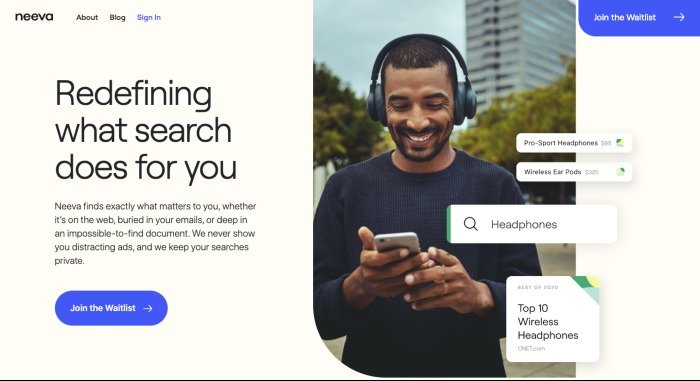 UPDATE: Neeva has been shut down now.
Neeva search engine to rival Google
Then how will Neeva make money, you ask? Well, Neeva will be subscription-supported. In the absence of targeted ads, Neeva has no reason to track users. Plus, Neeva will be personalized without data mining. So far, Neeva, along with 25 employees, has raised $37.5 million, reports NYT.
Interestingly, Neeva will make use of existing search and other relevant data from services such as Bing, weather.com, Apple Maps, and more. In addition to the web, the Neeva search engine will be able to search for your emails and locally stored files and documents.
"Neeva was created to give you a choice in how you search and experience the internet," the company says on its website. "We built Neeva to feel like your personal corner of the web, designed specifically for you – always ad-free and private. Our mission is to serve our users, and only our users."
Neeva website is accessible at neeva.co. Currently, you can sign up using your email address to join the waitlist. At first, Neeva will be available for free. But since it's a subscription-based search engine, eventually, the service will charge users less than $10 per month.
Ramaswamy worked at Google for over 15 years. Before leaving Google in 2018, Ramaswamy was in charge of the company's ads and commerce division. Hence, one thing is for sure. Raghunathan, on the other hand, worked at Google for nearly 12 years including as Vice President of YouTube Monetization.
Both Ramaswamy and Raghunathan together have a strong business and leadership experience required to start Neeva.
Meanwhile, see these 12 Search Engine alternatives to Google!