It's good news for Windows Phone 8 users across the world. In case you missed it, Microsoft recently announced the worldwide availability of full resolution photo and video SkyDrive backup. SkyDrive, Microsoft's cloud storage platform, is a great feature that allows Windows Phone 8 users to save full-resolution backup copies of pictures and videos on SkyDrive. Hence users can not only safeguard their photos and videos but can also share them easily.
Presently Windows Phone 8 users can upload full resolution photo and video only if they are located in countries such as Argentina, Austria, Belgium, Canada, Denmark, Finland, France, Germany, Greece, Iceland, Ireland, Italy, Japan, Liechtenstein, Luxembourg, Malaysia, Monaco, Norway, Poland, Portugal, Spain, Sweden, Switzerland, Taiwan, United Arab Emirates, the United Kingdom, and the United States. However with Microsoft announcing coverage worldwide, soon user's all across the globe would be able to access SkyDrive.
How to upload full resolution photo and video using SkyDrive
Uploading data is easy, follow path Photos>More>Settings>SkyDrive and you will see below window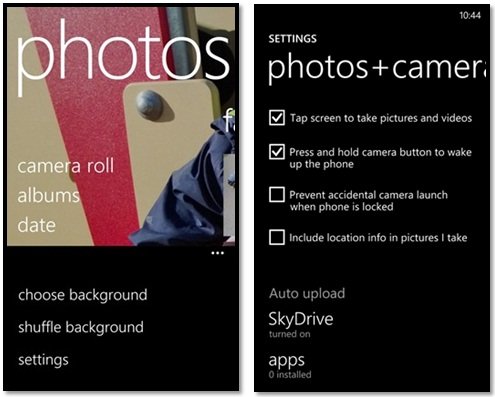 Now in SkyDrive storage (as shown below) you can upload your photo and video either choosing options like Good quality for lower resolution or Best quality for highest resolution.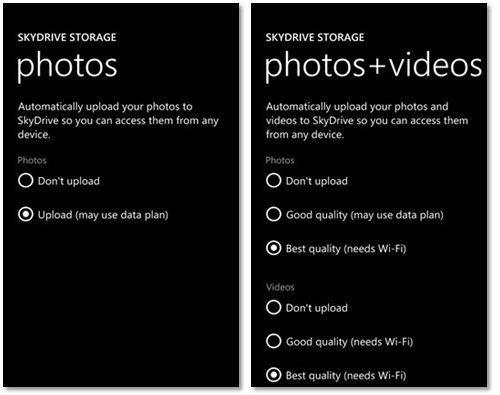 Availability
In the blogpost announcement by Aaron Sauvé, a senior program manager on the Windows Phone camera and photos team, he informed users that SkyDrive could still take some time to actually reach some countries.
"We just started to light this up, so be patient if you don't see it right away. The change could take a few days to roll out around the globe". "As you can imagine, backing up high-res photos and videos involves a lot of data. To ensure we could provide a quality experience in each market, we deliberately took things slow and planned a staged roll out of the feature" said Aaron.
Good move, Microsoft!