Last week a report that spoke about Fxmsp hacker group claiming access to the source code of three anti-virus companies surfaced – TrendMicro, Symantec, and McAfee. The authorities had kept the victim's names under wraps due to the sensitive nature of the issue. Meanwhile, Antivirus companies have refuted the allegations and said that they could neither deny or confirm the incident.
Antivirus vendors were hacked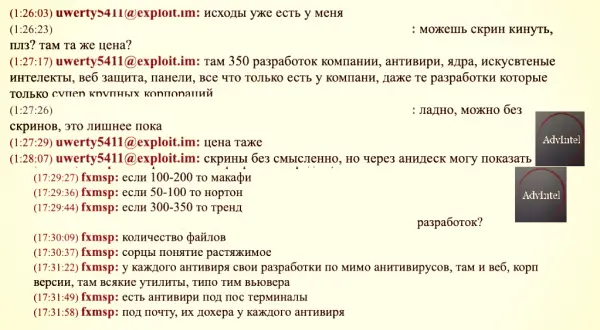 The fraud prevention company AdvIntel has gotten hold of communications that name three of the victims. AdvTel has obtained the information from Russian based underground forums. The company also has access to instant messaging logs wherein the group is talking about selling the data for $300,000.
What's more, Bleeping Computer has access the conversation and as you can see it is all about the source code of various av products. The screenshot depicts the conversation between the Fxmsp hacker group members.
The company also supported their claim with a screenshot showing properties of a video file. The video shows content from the hop server and gigabytes of data that has been transferred from the compromised antivirus company. That's not all, AdvIntel has also produced timestamps, source code, and walkthrough of the actual code.
The chats also reveal the name of av companies that have been compromised. As per the conversation, the source code for McAfee and Trend Micro have been hacked. Furthermore, the conversation reveals that the hacker's group targeted the companies specifically. Members also assured that both the av companies don't know that their source code is out in the wild.
What did the antivirus companies say?
This is where things start getting mysterious. Symantec has reported that it has not been affected and there is no need for the customers to be concerned. Meanwhile Trend Micro confirmed that unauthorized access had been made to a single text lab. However, the company claimed that no customer data or source code was accessed.