Gangnam Style by a South Korean singer PSY has toppled Justin Beiber's, two-year old Baby video to become the most viewed video on YouTube of all time. Never in his dreams would PSY have expected that his video would be such a rage all over the world!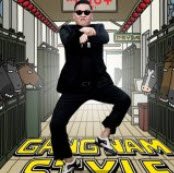 With this success, PSY or Park Jai-sang, aged 34, known for his comic dance style has become one of the most unlikely global stars of 2012. Incidentally, PSY is the son of the owner of a South Korean semiconductor company.
Gangnam Style is named after the affluent Gangnam District of Seoul and was first posted to YouTube as recently as in July 2012.
Said YouTube:
 "Gangnam Style" surpassed the site's previous record holder, Bieber's 2010 music video "Baby," and by mid-day "Gangnam Style" had reached 805 million views, compared to 803 million for "Baby." Within a few hours, "Gangnam Style" had gone up to more than 809 million views. It's been a massive hit at a global level unlike anything we've ever seen before.
At the time of writing this post, article the total views for video song were 826,061,391, but counting all the copies of the video posted on YouTube and elsewhere, the video has received more than 2.2 billion views across the Internet!
Enjoy the video!