DreamSpark is a great initiative from Microsoft to help students access the latest developer tools from Microsoft from free. On the same lines, Microsoft and Computing at School (CAS) have worked together to provide a free 3 year subscription (normally £130) to DreamSpark Standard for all CAS Schools.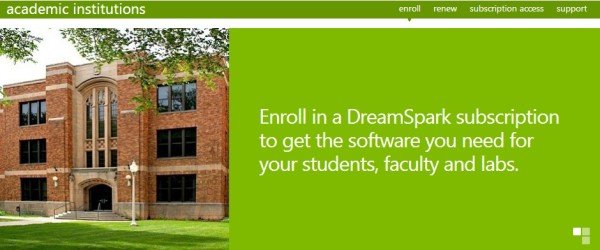 DreamSpark Standard enables students and beneficiaries gain access to 27 different Microsoft developer, gaming and designer tools (from Kodu to Visual Studio Professional) including many server products (Windows Server and SQL Server). The software can be installed in teaching classrooms and labs for educational purposes. Moreover, students can also get genuinely licensed software products for free right on their own systems and later work on them from home, school or etc.
To know more about the special offer that allows CAS schools to avail free membership of DreamSpark Standard for three years, visit the CAS site here (you'll need to register for an account if you have none). Inside in there, a PowerPoint presentation explains the whole process including how to get hold of the code to register for DreamSpark Standard for free.
Any questions or queries about this initiative can be directed to [email protected].
"This is a terrific opportunity for schools to access professional developer tools and a whole host more for their schools and their students. Enjoy!"
Indeed, it is!