Google Now notification cards will finally be available for Chrome Beta users. After more than a year of ado Google has finally announced that Google Now notifications cars are now integrated into the Chrome beta browser for Windows, Chrome book and Mac users.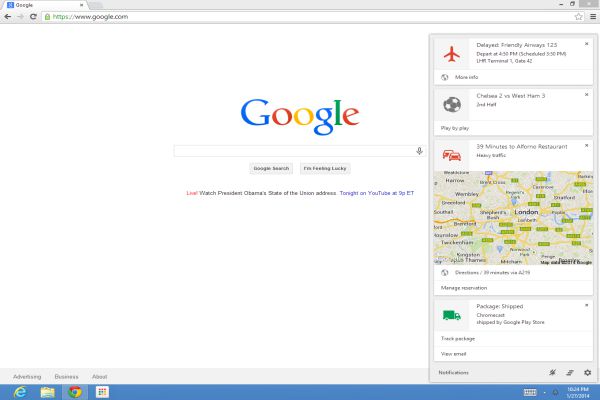 The Google Now notification cards are already integrated with Android and iOS phones. If you are already using Google Now on your Android of Apple phone; sign-in to Chrome with the same account, the notification cards should show up automatically.
While the new feature will be available later this week, it is already available only in English language on Chrome Beta. Search Engine giant however promises that the feature will support other languages soon.
The Google Now notifications cards will show information for sports scores, weather, travel details, traffic, shipping notifications and also event reminders.
The notification cards are displayed when you need them and entire information is based on your activity on your Google Account. For example your recent searches, current location and calendar entries. The cards are based on the confirmation mails arriving in your mail box.
For example the travel cards pop up when you are travelling. If you get any email updates for your previous restaurant reservations, the restraint reservation cards are displayed. The cards include links to the email on which the card is based, and also the directions to a restaurant or hotel from your current location.