For quite some time, Microsoft has been testing the News and Interest feature in Windows 10 via the Release Preview channel. Now the company has released it as an Optional Update known as KB5001391 for anyone willing to download it.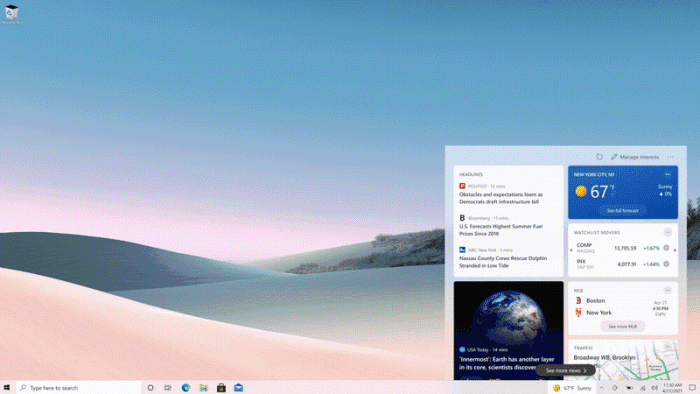 Download KB5001391 to get the News and Interest feature
With news and interests on the Windows taskbar, you get quick access to an integrated feed of dynamic content, such as news, weather, sports, and more, that updates throughout the day. You can personalize your feed with relevant content tailored for you. In the coming weeks, you will be able to seamlessly peek into your feed directly from the taskbar throughout your day without disrupting your workflow.
This update is quite impressive because it brings to the table easy access to news, weather, sports, and a multitude of other information throughout a single day. Not only that, but Microsoft also made it possible for uses to personalize their feed with applicable content.
Furthermore, there is a plan to allow users to seamlessly peek into their feed directly from the taskbar during the day without disrupting their workflow.
You can get it via Windows Update or download KB5001391 from Microsoft here.
The new update also fixes a few issues facing Windows 10 as of late, from what we've gathered. For example, it fixes a problem where blank tiles would show up on the start menu after updating a newer version. Additionally, the update now adds the ability for Mixed Reality users to adjust the idle time of their headsets via the Settings app.
Related: How to Enable or Disable News and Interests on Taskbar using Group Policy or Registry Editor.