GitHub is one of the biggest code hosting platforms which uses Git to provide hosting for software development version control. There are tons of open-source software that are hosted on this platform, which brings tons of developers to contribute to community development. Today, the company has announced its Indian subsidiary citing twenty-two percent growth over the past year.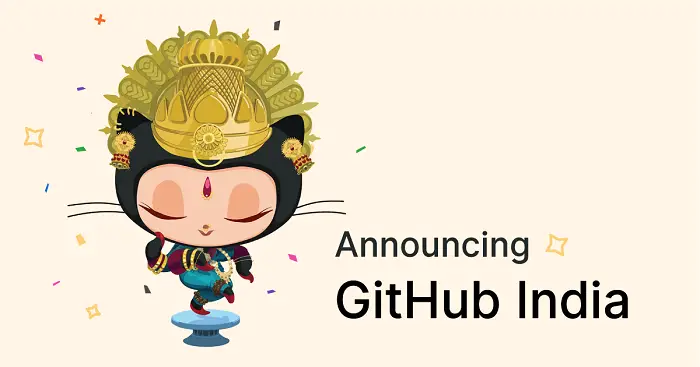 GitHub announces its Indian subsidiary
The announcement was today by the GitHub blog, officially announcing the GitHub India Private Limited, led by Maneesh Sharma, the newly appointed General Manager of GitHub India. Indian contributes to a massive part in GitHub, with over 22% growth that happened last year. GitHub also reports that public repositories in India have grown 75 percent. It is a sharp increase in collaboration across the Indian developer community.
It comprises of both the developers and enterprise customers such as Swiggy and ArisGlobal. They are also collaborating and building the software that powers their businesses on GitHub Enterprise. GitHub Enterprise will expand its channel partner program to support GitHub Enterprise customers in running their software development operations effectively.
As part of their plan, GitHub India will be building a team across all its verticals, including community, engineering, sales, support, marketing, and service. It will eventually help customers to opt DevOps best practices at scale and collaborate with developers and projects. Along with this, they will be investing in empowering students.
We're thrilled to announce that GitHub Education is extending our popular GitHub Hackathon Grant program to students in India, which supports student hackathons with up to $1,000 in grants.
Looking at their tweets, and replies on the announcement, here are few things we noticed:
They are looking into accepting payments in Indian Currency
As of now, they have offices in Bangalore and Hyderabad
They are hiring in other locations in India as well
GitHub is a subsidiary of Microsoft. The Redmond giant acquired it in 2018 for $7.5 billion. Not only it offers all of the distributed version control and source code management functionality of Git, but it also has developed and added its own set of features over the years.
It's good to see GitHub India Private Limited finally in the picture, and we hope it helps the developer community, and primarily benefits the small businesses in India.