This is a great new for the students who look forward to using GitHub Student Developer Pack for learning software development. GitHub and Microsoft join hands to make software development learning a great experience by including Visual Studio Community 2013 as a part of the Student Developer Pack. GitHub is known for being the home for open source community, where the students are the main audience.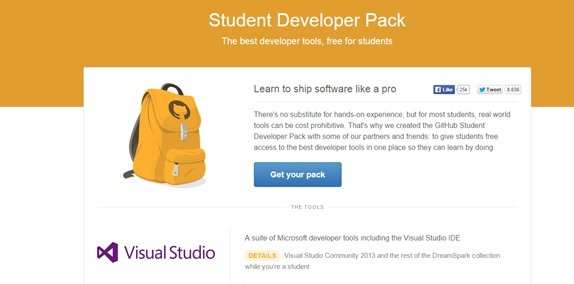 On the Micrsoft's official blog website, the MSDN, Somasegar's blog features this news. Somasegar, the corporate vice president of the Developer Division at Microsoft, says in his blog,
"Today, GitHub and Microsoft are making Visual Studio Community 2013 available as part of the GitHub Student Developer Pack."
He talks about the collaboration of GitHub and Microsoft,
"GitHub is the home of a strong open source community, including hundreds of Microsoft projects, and students are a critical part of this community.  Recently, GitHub announced the GitHub Student Developer Pack, a collection of resources for students to get started with access to great developer tools and services offerings from dozens of partners."
He further mentions, that through the GitHub Student Developer Pack, student developers can access Visual Studio, as well as great free offers for Azure and Visual Studio Online. With this, students can make use of all the Visual Studio tools, designers and debuggers. This is the stuff that is needed for the development of any software. Student developers will also get support for web, mobile, desktop and cloud apps using C#, Node.js, Python, F#, VB and more.
Similarly, those using Visual Studio Online can make use of tools for planning, backlogs, tracking bugs and running builds and continuous integration. Microsoft is offering the Visual Studio Online accounts free for up to 5 users. And finally, the GitHub Student Developer Pack consists of access to Microsoft Azure, the subscription of which includes 10 free websites and 10 free mobile services.
You can have a look at the GitHub's Student Developer Pack and its tools on its website.