Launched late last month by Anubis Networks, Cyberfeed's Global Botnet Visualizer is a service that tracks botnet behavior, growth, dispersion, live time and displays botnet connections per second and infected devices in the last 24 hours. This helps in getting live data feeds of security threats as and when they occur.
Global Botnet Visualizer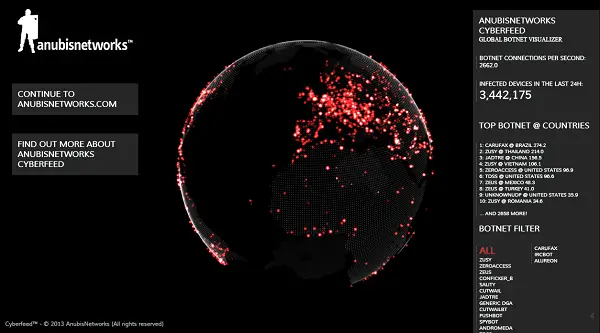 Considering the rapid surge in cyber crime threats in many sectors, particularly in banking and financial institutions the Portuguese company specialized in internet security solutions had launched the feed service, which is subscription based. The service has the built-in ability of covering bot activity in real-time around the world, offering enriched information about the devices infected, type of malware infection, trap hits by active botnets, etc., thereby helping them to efficiently predict and protect their devices and networks.
Besides obtaining information on security threats via feeds, the service is also capable of presenting intelligence report on customer IP Reputation, detecting compromised machines from customer networks, preventing users from engaging in online transactions when they have been found to contain an information stealing Trojan hiding deep under and more.
You can check out the Global Botnet Visualizer here, in your Chrome or Firefox browser.
Botnet connections per second, Devices infected in the last 24 hours, the locations and countries, Botnet filters and so on. At the time of writing this post, there were over 2300 Botnet connections per second and 3.4 million devices were detected as infected in the last 24 hours.
If you are interested in learning more about Botnets, you can check out this video from Microsoft. Have a look at these Botnet Removal Tools too.