Google, along with the launch of Google Drive had introduced the Google Drive SDK. The software development kit from Google helped users integrate their apps into Drive. With this, users of the service were able to integrate as many as hundred web apps with Google Drive. Now to further simplify the process of integrating Drive enabled apps, Google has introduced a revamped Drive 'Create' menu.
The new 'Create' menu would make it easier for Drive users to easily discover, connect and use the Drive-enabled apps. Now, when you visit your Drive account, you will notice some space made in the Create menu for your apps, which you can add by clicking on Connect more apps.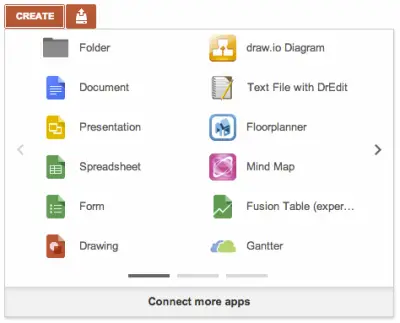 After installing an app you will get the chance of browsing and connecting these Drive-enabled apps right from within Drive. Users can immediately start creating files or open them directly from within Drive!
If your app is already Google Drive-enabled and listed in the Chrome Web Store's Drive collection, you wouldn't be required to do a thing. Google will automatically pull all the information from your existing Chrome Web Store listing.
If, your web app is not yet Google Drive-enabled, you will have the option of integrating it with the create-new and the open-with actions and then get your Drive-enabled app listed in the new Connect apps to Drive dialog.

Nicolas Garnier of Google had this to say:
Currently, there are about a hundred web apps that use the Drive SDK to integrate with Google Drive. This integration, for example, includes the ability to open files in a third-party app directly from the Drive UI and to start new documents from the Google Drive 'Create' menu, as well as ways to export and convert Google Docs.

In this new iteration of Google Docs, these third-party apps also get first billing in the 'Create' menu and a new "Connect Your Apps" button at the bottom of the menu puts a stronger spotlight on this slowly growing ecosystem of Drive-connected apps.
A very useful feature, I must say!