Google wants to help Americans improve their career prospects and contribute to the country's economic recovery. As a result, the search giant has announced a series of new certification courses to help Americans enhance their digital skills – Google Career Certificates.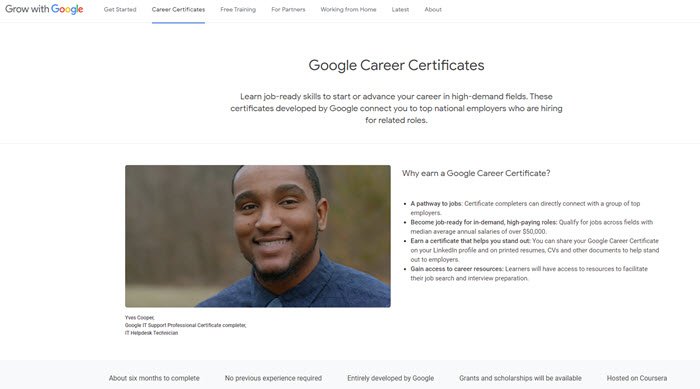 Since the job market is badly hit amid the global healthcare crisis with big companies such as Airbnb and Uber laying off employees in large numbers, Google's new certification courses will expectedly help Americans boost their chances of getting a new job to some extent, to begin with.
Google's new suite of Career Certificates
"Our Grow with Google initiative helps people get the skills they need to get a job or grow their business," said Kent Walker, Senior Vice President of Global Affairs at Google. "We're announcing a new suite of Google Career Certificates that will help Americans get qualifications in high-paying high-growth job fields—no college degree required."
Google has promised to fund a hundred thousand scholarships for those in need. Plus, Google is also willing to consider its new career certificates as equal to a four-year degree for related roles.
Walker further added:
"We're also committing $10 million in job training Google.org grants for communities across America, working with partners like YWCA, NPower and JFF."
Google's new career certificates fall under the following fields: Data Analytics, Project Management, and User Experience (UX) design. Google already has an existing set of certification courses to offer in the field of IT Support and Automation in Python. These training courses will be driven by Google employees working in their respective field areas.
According to Google, these certification courses will provide learners with the essential skills needed for the desired job. Well, learners neither require any degree nor prior experience to take these courses.
The U.S. economy has understandably worsened in the wake of the pandemic with a lot of companies bearing losses due to a variety of factors including financial uncertainty, lack of economic growth, a growing number of ransomware incidents, among other issues.
Meanwhile, let's take a comprehensive look at the value of Microsoft Certifications!