Microsoft was first to start supporting the 'DO NOT TRACK' feature in its proprietary browser – Internet Explorer. Later, Mozilla's Firefox, Apple's Safari, and Opera followed suit, but Google's Chrome trailed behind. Not any more!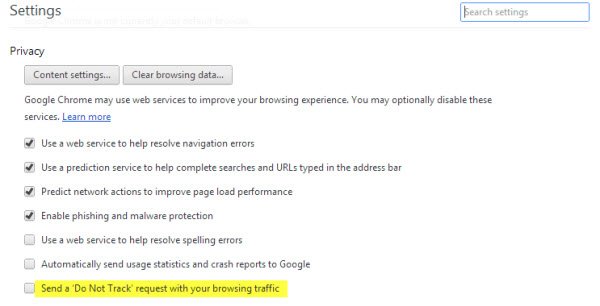 Google has released Chrome version 23.0.1271.64 for Windows, Mac, and Linux and Do Not Track support is the major change that has landed with it. The feature as you may know helps you safeguard your privacy and banish certain targeted ads.
That said, you will not find 'Do Not Track' feature readily visible. Because, it is not advertised anywhere. You'll surely have to go digging the settings page and find the option's check-box that resides among some other privacy options.
Apart from the 'Do Not Track' feature, the released version of Chrome contains many stability fixes and few improvements. For instance, now, Chrome adds a simplified menu to allow you control certain site permissions i.e. Chrome users will find it much easier to view and control any website's permissions for capabilities such as geolocation, pop-ups, and camera/microphone access.
Instead of going to Settings page, any user will find options to edit these permission right from the page/lock icon next to a website's address in the omnibox. Simply click on it to see a list of permissions and tweak them as per your requirements.
Google says Chrome 23 also brings hardware accelerated video decoding to Windows users which it claims leads to battery life improvements up to 25%.
Users interested can update to the latest release Of Chrome 23 by downloading it directly from Google.