It is surprising news to Windows 10 community that Google Chrome is now available in the Microsoft Store because the Microsoft-Google rivalry has been a hot topic for a few years mainly when Microsoft introduced Bing to compete directly with Google's search engine market share.
UPDATE: Chrome has been removed from the Microsoft Store because it didn't use the Microsoft HTML/Javascript engine.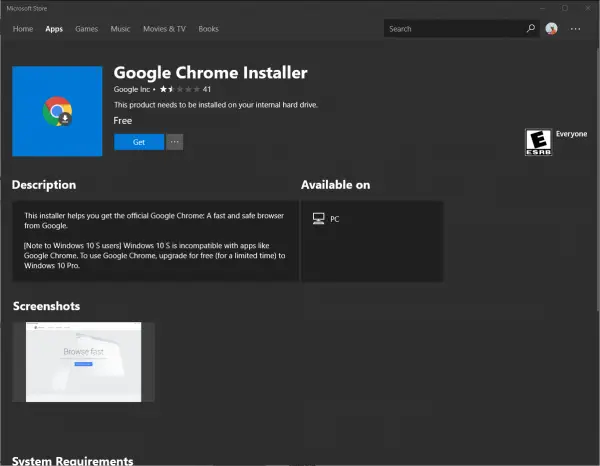 Google Chrome on Microsoft Store
This is the 2nd app by Google that is still available in the Microsoft Store after the Google Search app and the YouTube web wrapper which was later removed from the Store looking at its uselessness.
Now, this Google Chrome Installer app is nothing different from the YouTube app. Here, the app is a web wrapper too. When we open the app, it redirects the user to a new webpage which downloads the old Google Chrome installer and installs the Win32 app of the same. This means there is no UWP or Universal Windows Platform app for Google Chrome yet. There is only one Universal app from Google, and that is the Google Search app.
Now, this means if this is no UWP app this won't be compatible to run on Surface laptops or devices running Windows 10 S. The description of the app reads :
This installer helps you get the official Google Chrome: A fast and safe browser from Google. [Note to Windows 10 S users] Windows 10 S is incompatible with apps like Google Chrome. To use Google Chrome, upgrade for free (for a limited time) to Windows 10 Pro.
This app is compatible with Windows 10 Version 1507 or Build 10240 which means every released version of Windows 10 for PC will be able to install the app. Secondly, this app is only available for x86 and x64 architecture devices which are only PCs running Windows 10. And hence, it is not available to be downloaded to the devices running Windows 10 Mobile.
You can find this web wrapper UWP app here in the Microsoft Store.