Google Chrome is rolling out a new, major update that brings a significant change to the way users deal with multiple tabs on their Chrome browser. Folks over at Google Chrome have introduced a new productivity feature that allows users to organize tabs by groups, color codes, etc.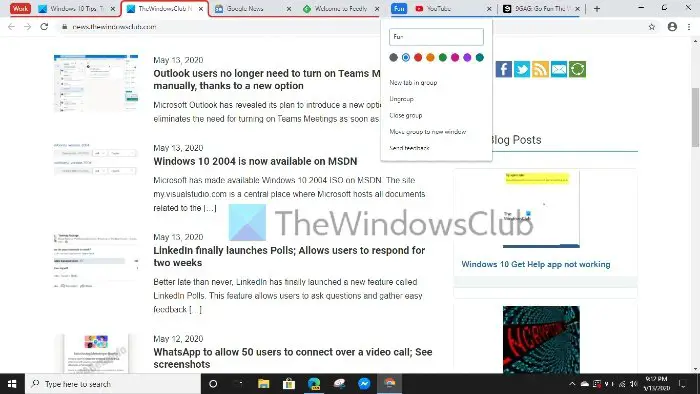 Google Chrome launches Tab Groups
It's often difficult to arrange tabs in an orderly fashion, especially when you have too many tabs open on your Google Chrome browser. And working from home has its own advantages and disadvantages that affect your productivity to a significant extent.
Most users primarily surf two kinds of websites while working from home. First, websites that are essential to their work and secondly, websites that keep you entertained. Switching back and forth between entertainment and work-related tabs can be difficult because you may close or choose wrong tabs.
Enters Tab Groups, a feature that allows users to arrange tabs as per groups and color codes. In its recent blog post, Google wrote:
"We've been testing out tab groups for several months now (as have some of you), and we're finding new ways to stay organized. Through our own usage and early user research, we've found that some people like to group their Chrome tabs by topic."
Google Chrome Tabs Groups: How does it work
In Google Chrome 83, you can label and assign a particular color code to tabs. As you can see in the above screenshot, we divided tabs into two groups: Work and Fun. All you need to do is right-click on the tab and select the option "Add to new group."
A new group tab will be created left to the main tab. Once you click on that tab, Google Chrome will prompt you to name the newly-created group and assign a color code to it.
Similarly, you can label other tabs to existing groups. All you need to do is right-click on the tab > Add to existing group. You can always ungroup tabs or create new group tabs.
Tabs Group feature is currently limited to Google Chrome 83 (Beta) and available in version 83.0.4103.44.