In an effort to widen its horizon and increase the reach of its online services like Google drive, Google has rolled out support for more 18 languages, taking up the tally to 65. Google Drive behaves much like a home for Google docs. The service lets you store files safely and access them anywhere — on the web, your computer, your phone, or on the go.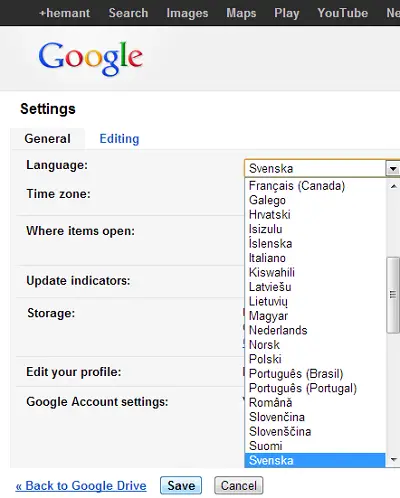 Love to collaborate? No matter which Drive app you're using — Docs, Sheets, Slides, Forms — you can work in real-time in any language you choose while your fellow collaborators use another language, says Google.
It doesn't matter which Google Drive app you are using – Docs, Sheets, Slides or Forms, you can work in real-time in your favorite language (if supported). The new languages added to Google Drive app include,
Afrikaans, Amharic, Basque, Chinese (Hong Kong), Estonian, French (Canada), Galician, Icelandic, Khmer, Lao, Malaysian, Nepali, Persian, Sinhalese, Spanish (Latin America), Swahili, Urdu, Zulu.
If Google Docs, Sheets, or Slides appears in a language you don't understand, simply switch to the language of your choice. To do so, follow these steps:
In your Drive, click the gear icon in the top right and select Document settings.
On the Settings page, click the drop-down menu beside Language.
Select the language you want to use.
Click Save.
It's important to mention here that you need to enable cookies to ensure that your language selection doesn't change. For more information on this topic refer this page. What's interesting? Many of the languages added are also supported by Drive's spellchecker.