Job hunting has always been one tedious job for job seekers, but Google is here to make this easy. With a new feature called as Google for Jobs, Google is trying to turn its search engine into an employment engine too.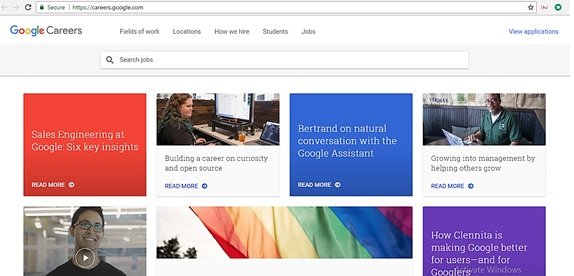 Google for Jobs
No Need To Search Through Multiple Job Sites
With Google For Jobs, Google has streamlined the tedious process of job hunting. It has removed the need for the job seekers to search through countless job sites. All that one needs to do is type in searches like "jobs near me" and Google would collate all the relevant job postings from sites like Monster, CareerBuilder, Facebook and LinkedIn.
Specific Job Searches
Job seekers can search for more specific jobs, like "teaching jobs." They can also refine their searches by location, company, date posted, expected working hours, or whether the position is full or part-time. Google for jobs also allows the users to set up alerts. Google will introduce more filters and information to the Jobs search feature in the future.
View Employer Ratings And Commute Times
Google will also display employer ratings from current and former workers. It would also show the typical commute times to job locations.
Google Partnering With Help-Wanted And Employer-Rating Services
Google is also teaming up with LinkedIn, Monster, WayUp, DirectEmployers, CareerBuilder, Glassdoor and Facebook for job listings. So, the job postings shared on these websites will also be reflected directly on Google Jobs Search.
Feature Availability
Currently this feature is available in America only. Starting from Tuesday, job hunters in the US would be able to go to Google and search for Jobs. The feature is available only in English, on both desktop and mobile.
Google in its announcement post says,
"People from all walks of life, experiences and backgrounds have undergone a job hunt at some point in their lives. Whether you're a young adult looking for your first job, a veteran hoping to leverage your leadership experience in civilian life, or a parent looking for a job with better pay to support a growing family, we hope this new experience on Google will help make the job search simpler and more effective."
The results from Google.com/Jobs feature will aim to streamline the job listings by eliminating duplicate jobs posted on different sites. Hopefully this feature will be expanded internationally soon.