Google + is now the second most popular social network; says the 'Social Media Platforms GWI.8 (Q4 2012) Report' released by GlobalWebIndex. Google+ has surpassed Twitter and claimed the number 2 position in the list of world's most popular social media platforms with 343 million active users. Google's YouTube is at third position pushing down Twitter to fourth place.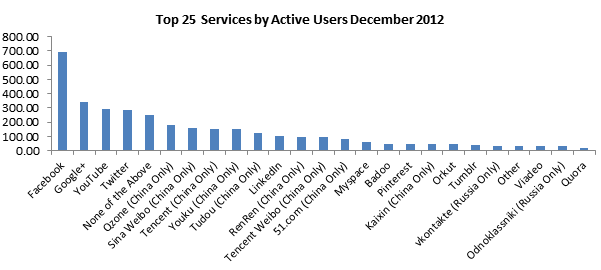 Facebook with a massive lead is still on the top position and is the biggest of the social media networks used globally. According to the report GWI.8 Facebook has around 700 million active users around the globe. The report suggests that the three of major social media networks, Twitter, Google+ and Facebook are growing radically. 
The report says,
"Data collected in GWI.8 (Q4 2012) demonstrates the continued shift in usage from localized social platforms to global ones with huge growth for Twitter, Google+ and Facebook. The fastest growing network in 2013 in terms of "Active Usage" was Twitter which grew 40% to 288m across our 31 markets (approximately 90% of global Internet population). 21% of the global Internet population now use Twitter actively on a monthly basis. This compares to 21% actively using YouTube, 25% actively using Google+ and a staggering 51% using Facebook on a monthly basis."
Once described as a ghost town, Google+ has grown by 27 percent this past month. G+ has been on the web since 2011 and getting the second position is certainly a big leap. The most interesting part is that this data is not just for the users signed up with Google+ but is related directly to the active users there.
The unanticipated fact in the report posted by GWI was that YouTube which was not even tracked by GWI as a social media platform till last year is at number 3 outshining Twitter.