Indian Women are known worldwide for expressing different traits. They are graceful and elegant, adept at balancing work and home. They are go-getters and personify motherhood. But most of them are not, digitally literate.  To overcome this deficiency too, and empower women further, Google India has come up with 'Helping women get online' initiative.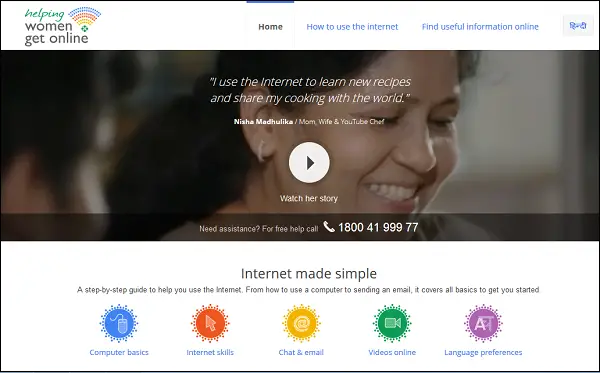 Google Helping Women Get Online
It was found that out of the total internet users in India only 1/3 part comprises of the women population. The lack of knowledge about Internet, how to use it can be counted as some barriers in using the tool effectively.
As such, the initiative started by Google India aims to bring 50 million additional women online by end of 2014 by undertaking a variety of initiatives across India. Helping Get Women Online campaign primarily focusses on
Creating awareness about the potential benefits of Internet for women
Educating women to use the Internet to improve their lives
Work in partnership with other companies for creating easy Internet access points for women across the country.
Google has launched a website www.hwgo.com. The website hosts content that covers the basics of Internet relevant to women in India. The content is available in both, Hindi and English languages.
"With this project we successfully completed a digital literacy effort of training over 100,000 women in Bhilwara and trained them on how to use the basic applications on the Internet. The learnings from the pilot will help us to work on a framework which we will use to roll out in other parts of India. Internet as a medium can be extremely empowering for women and this is especially true for women in developing countries like India. We strongly believe that Internet can greatly benefit and transform the lives of women in India," said Onca Brunini, VP  for Marketing Google.
The digitally literate women with knowledge on how to use Internet as a tool effectively can bring about a change in culture, thinking and social welfare.