The Google Doodle holds significance importance and is often used to highlight a notable event, a breakthrough discovery, the birthday of a famous personality or simply an important day in history/current affairs. The creativity behind some Google Doodles is simply amazing! But as for now, Google now gives students the esteemed privilege to have their drawn Doodle displayed on the Google homepage for a whole day!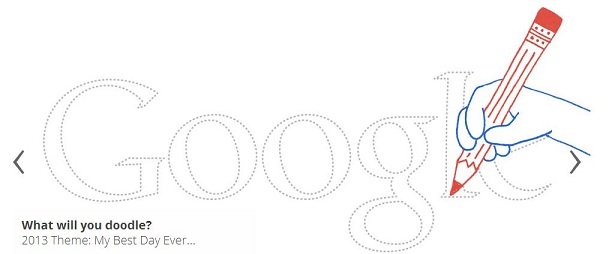 Doodle 4 Google is an annual program that invites K-12 students in the United States to use their artistic talents to think big and redesign the homepage logo for millions to see. Google now invites entries for the 6th edition of this program in 2013 and the theme is: 'My Best Day Ever…'.
The entries will be judged by Googlers (Google employees) and a panel of guests which include creative minds like journalist and TV personality Katie Couric; music maestro Ahmir "?uestlove" Thompson of The Roots; Chris Sanders, writer and director of Lilo & Stitch and How to Train Your Dragon; and Pendleton Ward, creator of Adventure Time.
The most creative Doodle as decided by the panel will be adjudged as the winner and the student behind the winning entry will win a $30,000 college scholarship and a $50,000 technology grant for his or her school not to forget that the winning Doodle will be displayed on the Google homepage for a day.
"On May 1 we'll open up a public vote for the 50 State Winners. They'll be flown to New York City for a national awards ceremony on May 22. There, we'll announce the National Winner, whose doodle will appear on the Google homepage the following day. In addition, all the State Winners will have their artwork on display at the American Museum of Natural History from May 22 to July 14." – Google.
Participants can download the entry forms from the Doodle for Google page and send in the completed Doodles by March 22, 2013 accompanied by a parent's/guardian's signature. Only one Doodle entry is allowed per student.
For more details about full contest rules and entry forms, check out the official website.