In recognition of its growing popularity, Google Plus has released its Google+ iPhone and iPad apps in 48 new countries and territories around the world. The service has 500 million registered users, of which  235 million are currently active.
Although the move from Google (expanding the app to new regions) represent just a small portion of the entire Google+ community, it's surely helping in making the service both, global and mobile.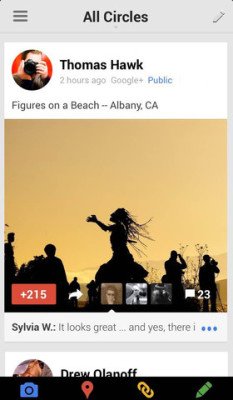 Vic Gundotra of Google via a post said,
Today we're excited to make the Google+ iPhone and iPad apps available in 48 more countries and territories (see below). To get started just visit the App Store on your mobile device, search for "google+", and download the app! You can also visit the App Store via desktop:
Mentioned below is the list of 48 new countries and territories added.
Albania, Anguilla, Barbados, Benin, Bermuda, Bhutan, Brunei Darussalam, Burkina Faso, Cambodia, Cape Verde, Cayman Islands, Chad, Republic of Congo, Dominica, Fiji, Gambia, Grenada, Guinea-Bissau, Guyana, Kyrgyzstan, Lao People's Democratic Republic, Liberia, Macau, Malawi, Mauritania, Federated States of Micronesia, Mongolia, Montserrat, Mozambique, Namibia, Nepal, Palau, Papua New Guinea, Saint Lucia, Seychelles, Sierra Leone, Solomon Islands, St. Kitts and Nevis, St. Vincent and The Grenadines, Suriname, Swaziland, São Tomé and Príncipe, Tajikistan, Turkmenistan, Turks and Caicos, Ukraine, British Virgin Islands, Zimbabwe.
Some of the regions mentioned above in the list are already covered in terms of localized language support, as the apps is free to use in over 40 languages. These include,
English, Arabic, Bulgarian, Catalan, Chinese, Croatian, Czech, Danish, Dutch, Estonian, Finnish, French, German, Greek, Hebrew, Hindi, Hungarian, Indonesian, Italian, Japanese, Korean, Latvian, Lingala, Lithuanian, Malay, Moldavian, Norwegian, Persian, Polish, Portuguese, Romanian, Russian, Serbian, Slovak, Slovenian, Spanish, Swedish, Tagalog, Thai, Turkish, Ukrainian, Urdu and Vietnamese.