A few days back, Google jumped into domain industry, and today they launched .HOW domain. a new generic top level domain (gTLD), which is designed for those who have knowledge about a specific topics that they want to share with the world.
This new gTLD will help companies, entrepreneurs and educational organization to target and share information with users who are looking for in a quickly & timely manner. A .HOW URL is also beneficial for those people who acquire specific knowledge about a product or want to offer a service for those prospective clients, for them .HOW will always help to excel in their business.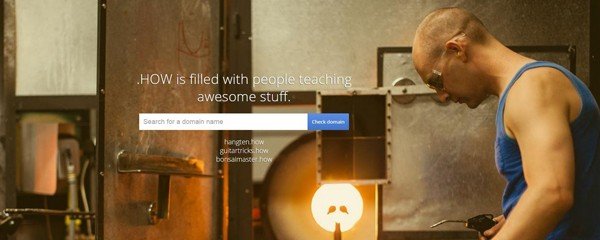 Register for .HOW domain
If you planning to get a .how domain, simply visit Google Registry and search for the desired domain name, if that domain name is available Google will redirect you to one of its domain name provider like name.com or domainsatcost.ca to purchase the name.
There is no screening or content approval process involved to get .how gTLD. The cost of .how will depend upon which Google name service provider partner you choose while buying one. The price starts at $28 annually at one of the service provider.
"People use the Internet to learn how things work, how to do something, or how to turn a hobby into a business. They find their answers in great content, created by great teachers like you. Now, there is a new way to help you share: .HOW, a place for thinkers, tinkerers, and knowledge seekers. Get your .HOW name today and start sharing your passion with the world. According to the Google launch page.
The .HOW domain will help users looking for those how to's information by bringing then under one roof and is available via Google Registry.
There are other 17 gTLD that Google is planning to rollout in near future, few of them are .ZIP, .RSVP, .NEW, .EAT, .HERE, .MEME etc.
We will keep posted on these new gTLD's when they will be launched, till then stay tuned to TheWindowsClub for updates.