Google wants to redefine your online shopping experience. As a result, the search giant has announced its latest e-commerce initiative, something it describes as an "entertaining new way to shop online." Shoploop is the creation of Area 120, Google's in-house lab for experimental projects.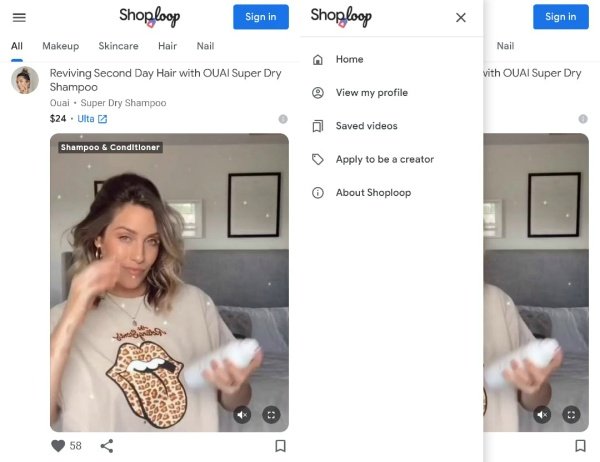 Google Shoploop
From product discovery and research to making a final purchase decision, the idea behind Google Shoploop is to provide buyers with a full-fledged online shopping experience, eliminating the need for switching between various apps and websites.
Google Shoploop is supposed to offer a one-stop-shop experience for all beauty and healthcare-related products that often employ social media influencer marketing campaigns to reach out to potential buyers. As a result, the entire process inherits a particular pattern, as follows:
First up, people come across videos that advertise and talk about these beauty and healthcare products on YouTube and other influencer-marketing-driven social media platforms such as Instagram and TikTok.
Then, interested users would want to read and watch online reviews in order to know more about other people's experiences with the same product or brand and see what they have to say about it.
People interested in purchasing the product will want to go on e-commerce websites in order to make the final purchase.
As you can see, this is at least a 3-step process if not less, something Google wants to address thanks to Shoploop.
"The experience on Shoploop is more interactive than just scrolling through images, titles and descriptions on a traditional e-commerce site. All Shoploop videos are shorter than 90 seconds and help you discover new products in an entertaining way, whether you want to try at-home nail stickers, revive your second-day hair or get a concealer that gives full coverage," said Lax Poojary General Manager of Shoploop at Google.
Bridging the gap between online and offline commerce
Google's plan here is to bridge the gap between offline and online shopping experience. Google says Shoploop features experts' opinions, practical tips, and more.
The unique selling proposition of Shoploop is its focus on 90 seconds or shorter videos that it claims will help users discover new products. Shoploop is currently limited to content creators, publishers, and online store owners in the beauty industry in categories such as makeup, skincare, hair, and nails.
Shoploop is currently limited to mobile users with a web browser and is accessible at shoploop.app.