In honor of the Wimbledon tennis tournament, Google has introduced a Wimbledon themed tennis game. The game hides under the 'Search' function but takes little effort to find and play.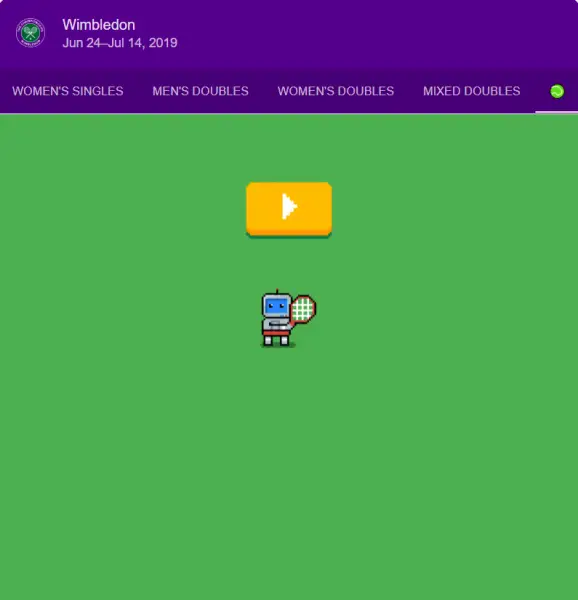 If you haven't spotted the game yet, we will tell you how to find it and start playing. The game is quite reminiscent of the classic 8-bit video games you played during your childhood days.
Google's Wimbledon themed tennis game is a classic 8-bit video game
Open your browser and search Google.com for 'Wimbledon scores'.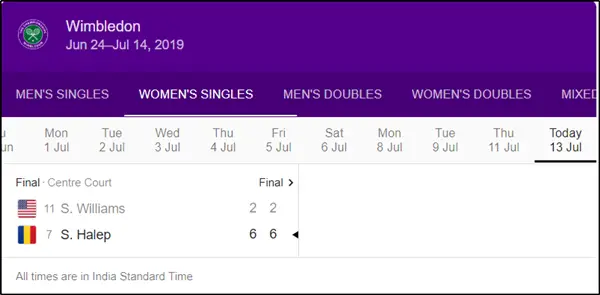 A purple box should pop up on your computer screen. There, you will see a graph featuring scores from different categories such as
Men's Singles,
Women's Singles
Men's Doubles
Women's Doubles
Mixed Doubles
At the very end, you will see a little tennis ball. Tap the ball to play the game. Serve the ball and move using right and left arrow keys on the keyboard of a PC. On the phone, you can tap on the right or left of the screen. Try to get your player in front of the ball to rally it back and forth. You score a point when you successfully return the ball. The difficulty level increases as the game progress.
If you miss a return, your game gets over. So, the high-score challenge against an unstoppable opposition continues until you miss to return i.e., lose the game. My score was embarrassingly low – 7! If you get past this score, share it with us in the comments section below.
With Wimbledon tournament ending this weekend, it's likely that the Easter egg might not be around for long so, get your hands on it, today. A word of caution – if you are playing the game in the office, make sure your boss or coworker does not know about it!