Google brings a new feature that allows Android users find their lost Smartphone or Tablet simply by typing, 'Find my Phone' in the Google search box. While Windows Phone  and iPhone users have been using such a feature for a while, the feature of finding the missing phone is now available for Android users too.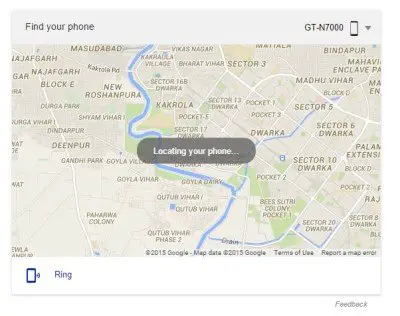 Google Find My Phone feature for Android
To use this feature:
Install the latest version of Google App on your Android Smartphone, login to your account and you are done.
Just type ' Find My Phone ' on Google search box and the program will show you the location of your phone with a map.
That's not all, Google can now also help you finding your phone if it is misplaced somewhere nearby. Just click on 'Ring' and your phone will ring continuously for five minute helping you to locate it. Google also let users lock their lost Smartphone or tablet remotely or delete the data stored in case it is stolen.
Announcing the feature in a Google+ post, the Company said,
We've all been there – you've searched under your car seat, tossed around the sofa cushions and you still can't find your phone. If you know where your computer is, you can now ask Google to find your Android phone from your desktop. If the pesky phone is hiding nearby, Google can ring it for you – or you can see it on the map if you, say, forgot it at the bar.
Overall, the feature seems to be useful enough for Android users. You can ring it if you have misplaced your Smartphone at your home or can locate it on a map if it is stolen or lost somewhere else.