Google has disclosed the amount paid to security researchers around the world who participated in company's security awards program to find security flaws and bugs within Google. However, one reward that company would have been embarrassed to give was the one given to a student who bought Google.com for a minute.
This was an un-imaginable incident for Google that happened last year in October when its own domain Google.com (the costliest in the world) was sold to an MBA student for a minute.
Sanmay Ved, an ex-Google researcher and current MBA student at Babson College in Massachusetts, bought Google.com for a grand 1 minute for $12.
Exactly after a minute, the company realized the blunder it made and cancelled the buy transaction since the company owned the registration service itself, in the process refunding $12 to Sanmay. Later, the search giant offered a reward of $ 6,006.13 to Sanmay and subsequently doubled the reward amount after finding that Sanmay donated his entire reward amount to The Art of Living India.
Google paid over $2 million in 2015 to researchers
Detailing on Google Security Rewards for the year 2015 the Search giant said that it paid over $2 million to researchers around the World. Last year, the company also supported researchers to carry out investigations under Vulnerability Research Grants.
Eduardo Vela Nava, Google Security executive, wrote on the company blog,
"Last year, we began to provide researchers with Vulnerability Research Grants, lump sums of money that researchers receive before starting their investigations. The purpose of these grants is to ensure that researchers are rewarded for their hard work, even if they don't find a vulnerability".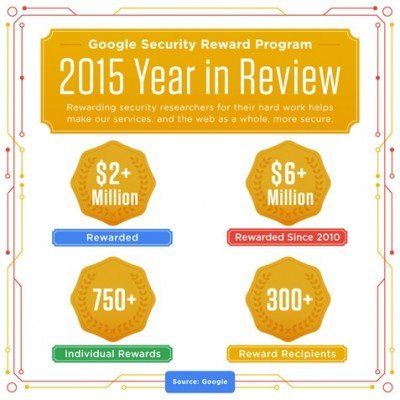 The company said that its new initiative of supporting students under "Vulnerability Research Grants" made an immediate impact as Kamil Histamullin a researcher from Kasan, found an issue in YouTube Creator Studio which would have enabled anyone to delete any video from YouTube by simply changing a parameter from the URL. "After the issue was reported, our teams quickly fixed it and the researcher was rewarded $5,000 in addition to his initial research grant" said Eduardo.
As per the blog post, the company spent more than $6 million since 2010 as rewards to researchers.