Today's Saturday morning began with mourning and cries as a very massive earthquake shook Nepal and northern parts of India. Many people are dead and many are still missing after the 7.9 magnitude Nepal earthquake hit these two countries. In the wake of this massive and destructive earthquake, Google India was quick enough to launch a very useful service of 'Person Finder'.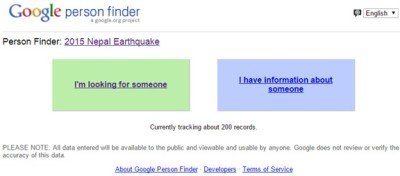 Google India twitted at 2:25 PM that they have just launched this service that will help track missing persons from Nepal earthquake.
Google Person Finder
Person Finder instance, launched by Google is a simple link. The page is available in English as well as in Nepali (the national language of Nepal). There are currently two links provided on the Person Finder page. You can either search for a person in the 'I'm looking for someone'; or you can enter information about a certain person in 'I have information about someone'.
I'm looking for someone: To search a person in Person finder, you need to use this link. You need to enter the person's name in the search text box. Then click on 'Search for this person'. If the database has any information regarding this person, it will be displayed. If there is no information available in the database, a message will be displayed saying 'No results found for:'. Users can create a missing record for this person in this case. When clicked on 'Create a new record for a missing person'; a form appears. Here, you can provide details about the missing person such as, Given Name, Family Name, Alternate names, Gender, Age, Home Address and more description about this person to identify him or her. You can upload the person's photo as well. If the person has a profile on any other website (such as Facebook, Twitter, etc.) you can provide the link to this website. You can also choose the time duration for which the record should remain in the database, such as 30 days or 1 year. Once you select the duration, the record will disappear after this duration. You also need to mention the source of this record; whether it's a new record or it is copied from any other source. Finally, save the record so that it will be recorded in the database.
I have information about someone: This is another link in the Person Finder. If you have information about someone who has lost his/her family in the earthquake or is not able to locate them after the disaster; you can enter their details in this section. A form appears after you enter the name and family name of the person and click on 'Provide information about this person'.
Google has really done a great job by launching such simple, yet effective instance called Person Finder. It will certainly help many people find their family and friends missing due this massive destruction.
Use the Google Person Finder to track missing people and help thousands of families to locate their loved ones.