As the world of technology continues to advance, Google can't stop but add new features to its services and products. The latest update coming to Google Photos app, on both mobile and on the web will add the ability to share photos quickly via private messaging.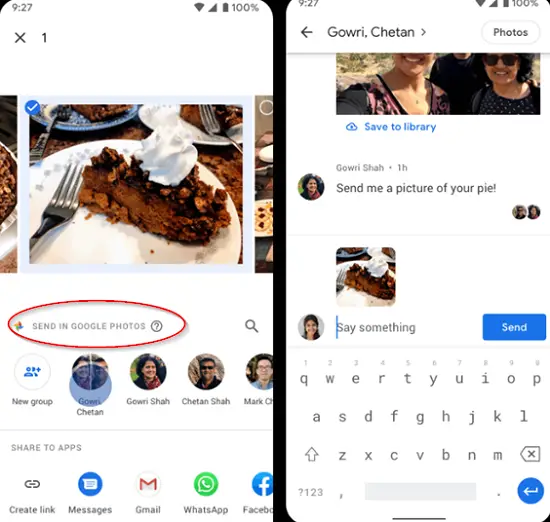 Share your Google Photos quickly through private messaging
It is cumbersome to create an album in Google Photos first and then shares it via the app. Taking note of this, Google has come up with a revamped share option that enables easy and quick sharing of your photos.
The new sharing option is effectively a part of a new private messaging feature built right into Google Photos.
You've always been able to share individual photos through the app by creating an album for a single photo and sharing the link. But we've heard from some of you that this could be a simpler experience, so now when you share one-off photos and videos, you'll have the option to add them to an ongoing, private conversation in the app. This gives you one place to find the moments you've shared with your friends and family and keep the conversation going. For me, this means I can show my mom and dad how my pumpkin pie turned out in just a few taps, wrote Janvi Shah, Product Manager, Google Photos in a blog post.
So, hereafter, if you would like to share a photo, you no longer must create a separate album. All you must to do is select the photo then, under 'Send Google Photos' choose the name of the person and hit the 'Send' button. You'll also have the option to add them to an ongoing, private conversation in the app.
This way, you can like photos, comment in the conversation or easily save them to your own gallery.
Source – Google Blog