Google is finally ceasing Google Schemer, its own goal-sharing service. Google launched the beta version of Google Schemer two years ago in the last quarter of 2011. For those who don't know Google launched Google Schemer two years ago as an invite-only service for sharing goals and discussing them with other people.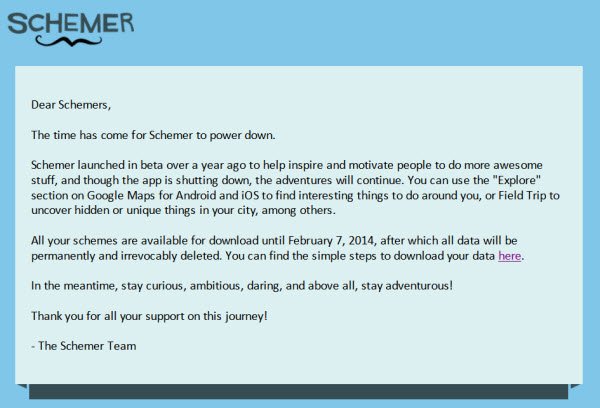 The company confirms that the February 2, 2013 will be the last day of Schemer and the entire data will be permanently deleted after that. The Android app hasn't been updated since October 2012, while the iOS app is already pulled down.
Google informed the Schemers about this shut down thorough an official mail saying,
All your schemes are available for download until February 7, 2014, after which all data will be permanently and irrevocably deleted.
Within four weeks of Schemer powering down, all your user data in Google Schemer will be completely erased (including all schemes, your Want-To-Do and Done actions, your Schemer profile and all comments, topics, locations, and photos added or attached to schemes).
Back in December 2013, Google posted in its official blog about the closure saying, Schemer is being shut down soon. Sign in to get your data before it's gone. However, the date of cessation was not clear till then.
Now that the date has been finalized, and we know that Schemer will be officially powered down on February 7, 2014; you better download all your schemes.
This is how you can download all your schemes –
How to download your data:
Sign in to schemer.com using your Google account.

Select "Email me my schemes" at the top of the page.
 Your data will be delivered to your Gmail account within 24 hours of the request.

 
Google will then send you an email with two attachments of the exact same data in two different formats: CSV and HTML. You can select the format as per your suitability and download accordingly.
If you have any other queries about the shutdown, downloading of data, etc, you can check the official Schemer support page here.