The number of valid DMCA takedown requests processed by Google has dramatically increased. them and used the data to downgrade the rankings of sites that were found guilty. As of date, Google is processing over 500,000 alleged infringing links every day, with copyright holders asking Google to take down the infringing pages.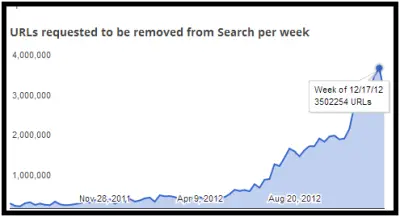 According to Google's transparency report, 51,395,353 links to infringing websites were removed from the indexer this year, but it continues to grow at an exponential rate.
There's much copyright infringement taking place every day online and much of it is facilitated by Google. The data from the Google itself proves it.  Take a look at the screen-shot above.
"We couldn't agree more with Google that this data shows that our current system is not working – for creators, or for Google. But we can't lose sight of the fact that it also confirms the important role that Google has to play in helping curb the theft of creative works while protecting an Internet that works for everyone," reported MPAA a few weeks ago.
Google is more worried about the increasing number of false positives, a problem which turns out to be an unavoidable side effect of this automated shotgun approach to DMCA take-down requests. As a result, Google in most cases Google has not removed the URLs listed in these takedown requests. This is indicative of the fact that Google does research before just responding to the takedown requests.
Via TorrentFreak.