Google is here to help you organize messages via a free email app now, currently available by invitation only – Google Inbox. The product developed by the Gmail team intends to coexist with Gmail and not replace it. Google brands it as total reinvention of Gmail but the application is fit for use or not will only be determined once users' reviews start coming in.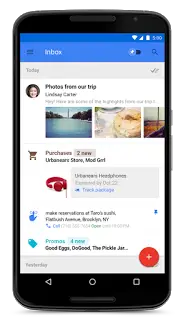 What Inbox does differently than Gmail is display your information in a way that aims to make content contextually relevant, instead of just delivering as it comes in.
Sunder Pichai, SVP, Android, Chrome & Apps said,
Email started simply as a way to send digital notes around the office. But fast-forward 30 years and with just the phone in your pocket, you can use email to contact virtually anyone in the world…from your best friend to the owner of that bagel shop you discovered last week.
He further added,
We get more email now than ever, important information is buried inside messages, and our most important tasks can slip through the cracks—especially when we're working on our phones.
Google Inbox highlights
Assists: A key Inbox feature called Assists proposes to integrate real-time updates from the Web directly into email.
Bundles: The Bundles option automatically groups similar messages, such as receipts, telephone numbers, etc.
Moreover, you can adapt Inbox to the way you work. The ingenious application integrates Google Now reminders and lets you create your own reminders. It is available on smartphones running Google's Android OS or Apple's iOS, and on the Web — but only in Google's Chrome browser for now. Hurry up! Google is sending out a limited number of invitations to try Inbox.
In my opinion, the Google Inbox experiment holds promises, but why does it needs to exist outside Gmail proper, I fail to understand. Perhaps, it's only an experiment!