Google, earlier today revealed it is rolling out Google Play Magazine service for its UK residents owning Android devices. Finally after much waiting Google Magazines has  opened its pages for the UK readers! Until now, no information was available with us as to when the Internet giant would be introducing its magazine offering anywhere other than the US.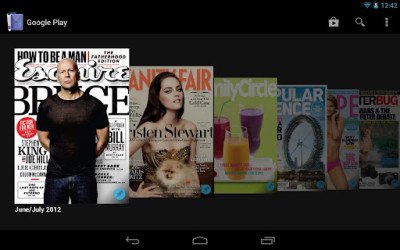 Beginning today, Android users can discover hundreds of bestselling books, magazines and shop a wide selection of titles either individually or via subscription. Categories include cooking, travel, sports and photography and more. If you want, you can get a free 14 or 30 day trials to peruse as well. What's even more interesting is that a single purchase can be synchronized across all of the devices logged into the same Play account. So, enjoy your favorite magazines, anywhere you go.
Moreover, certain titles are delivered in "Interactive" versions with more in-depth features, videos, animations, and other content. There's also a "Text" mode available – again, on a publisher-by-publisher basis – which strips out adverts and other distractions, and makes focusing on the written content more straightforward.
The service features over 100 UK titles from publications like Hello!, Glamour, Total Film and more.
The move from Google adds a lot more content options for Android users, specifically those on tablets, which are more popular for consuming more long-form content of this kind compared to smaller-screened smartphones.
Some, clearly see the move by Google as a competitive strategy, to make sure its Android devices remain as favorites in the face of competition from Amazon's Kindle Fire and Apple's iPad.