Google+ is up for a social evolution! The social-network is focusing more on building a better platform for its users for distributing all of its content. In this attempt, the service has rolled out a new feature.
The Google Plus team today added pan and zoom features to allow users explore small areas of high-resolution pictures that they upload on the site. Currently, the feature works on desktops only. Google believes the feature would make the task of exploring photos on Google Plus a lot more fun.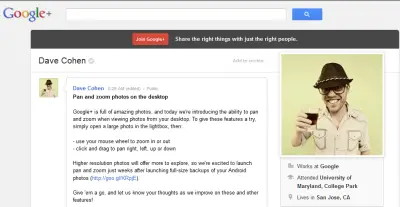 Clearly, like Flickr, the site is looking to compete for higher quality shared images.
Pan and Zoom feature in Google+
It's simple! A small navigational window appears in the upper left-hand side of the screen when users move a mouse cursor over a photo they've selected from the Google+ stream, highlighting which area of the photo the user is currently viewing.
A plus and minus sign too becomes visible for zooming in and out of a particular spot on the picture. You can simply pan over to view different areas. So, you see viewing photos on Google plus just got better!
Here's what Google's Dave Cohen had to say about the release:
Google+ is full of amazing photos, and today we're introducing the ability to pan and zoom when viewing photos from your desktop. To give these features a try, simply open a large photo in the lightbox, then:

– use your mouse wheel to zoom in or out

– click and drag to pan right, left, up or down

Higher resolution photos will offer more to explore, so we're excited to launch pan and zoom just weeks after launching full-size backups of your Android photos (http://goo.gl/KRpjE).
Let us know if you find it useful !