Google has released an SEO Cheat Sheet for beginners. This download covers the first steps that any blogger, who has just set up his or her blog, must take, towards search engine optimization.
Google SEO Cheat Sheet for beginners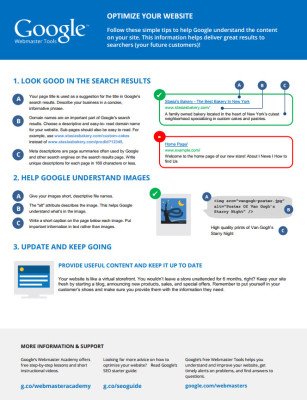 Every bloggers want to get on the first page of Google search. This is definitely not an easy job. But if you follow a few basic SEO techniques, you definitely stand a better chance.
This SEO Cheat Sheet from Google is a short how-to list with basic tips on search engine-friendly design, that can help you with search engine optimization and help Google and other search engines better understand the content and increase your site's visibility on search results page.
The suggestions include:
Drafting proper titles
Giving images descriptive names, Alt attributes and captions
Creating good content and updating regularly.
Google has already released a Search Engine Optimization Starter Guide, which covers a bit more than this basic cheat-sheet.
You can download the Google SEO Cheat Sheet for beginners from here.