Google rolled out the Cloud Print service a decade ago, so it allowed every printer to become accessible to the internet. Along with this, it also allows the manage printers and printing jobs and share an online printer with everyone else. However, it so happened that devices across all operating systems can't print with Google Cloud Print.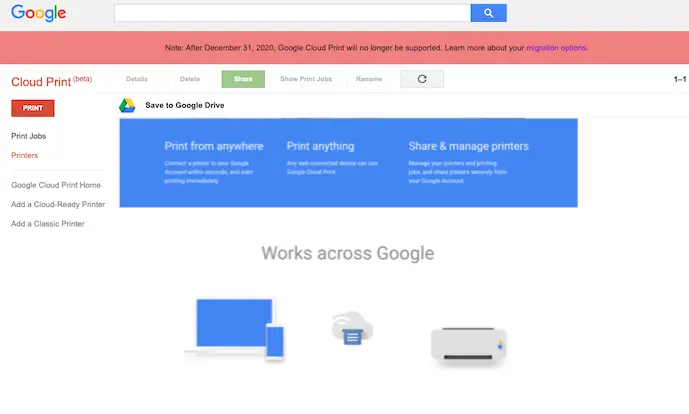 Google Cloud Print to shut down
It is interesting to note that Cloud Print was made enterprise-ready; it works on Chromebooks, but with time everything changed, and after December 31, 2020, Google Cloud Print will no longer be supported.
Google recommends that if you have invested in Cloud Print, it would be a good idea to migrate now. Migration is not a problem, and with everything built into the browser, apps, devices, and that most of the printers are connected over WiFi,  the use of Cloud Print is not much.
On Windows, you can use Ctrl + P
On macOS, use Command key + P to bring up the printer window.
On Android, you can simply share it to a connected printer, and the same applies to the iPhone and iPad.
Google Print wasn't a success, and it did not work out much because Google Chromebooks did not pick up. Cloud Print was baked into Chromebooks, but nothing worked out. That said, some are going to miss, especially if you loved to print to a remote printer. Say, for example, you wanted to print on a home computer while you are on the way or if you need to print a file for someone at home and all the person need to do was turn on the printer. You can achieve the same with a printer connected to the home network, but it will need a bit more configuration.
So yes, it's going to sad for some, and it joins a plethora of retired services. Remember that if a product doesn't work commercially for a business, it is bound to go that way.
Did you use Cloud Print?