With the increase in online activities, attackers are getting smarter and disguising themselves in different avatars to attack the user. Google has launched a new Site Status section in the Transparency report which will let you know why the website you are accessing is flagged off as unsafe to browse.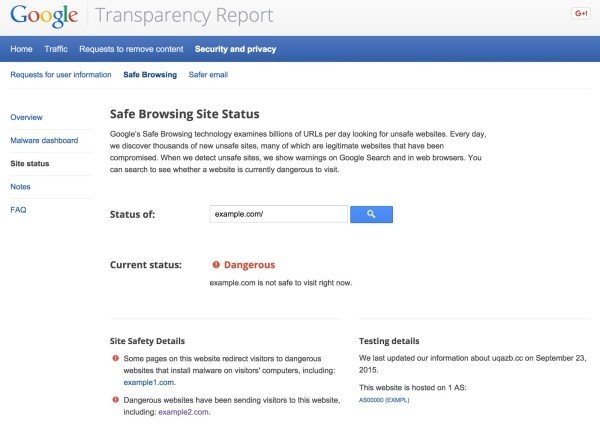 Google Site Status section
Google has been warning us since the 2006 about unsafe sites, remember The Site ahead contains malware sign? These warning signs flag down the website which might infect your system with malware infections and phishing attacks, but it hasn't been clear yet so as to what is the exact criteria that Chrome browser follows to flag off such sites.
The Site Status section of the Transparency Report will be replacing the Safe Browsing diagnostic page and will include a much simpler and clearer explanation of the issues, which will also be understandable by a usual web user. You can check out the web page here.
The sites can be marked as:
Dangerous: Definitely dangerous to visit right now.
Partially Dangerous: Some pages are definitely dangerous.
Maybe Dangerous: The site could be linking to a dangerous webpage or some dangerous website maybe linking to it.
Safe: It is classified as totally safe as of date.
Google further explains that if the website in question shows up as "Dangerous" it is mostly due to bad content uploaded by the user or a temporary malware infection. The browser status will be reverted to Normal once the webmaster cleans the website.
In fact Google also beams a notification via Search Console for the webmasters regarding the problem. Alternatively if you are a Webmaster you can check out the help centre to troubleshoot the issue.