Google's Opinion Rewards app allows users to answer questions and earn Play Store credits in return. Wouldn't you like to have an app that offers the same function but with one key difference – earning money instead of Play Store credits. That's what Google Task Mate is about. The app lets you complete the tasks laid out by Google or any of its affiliate businesses and earn money in return.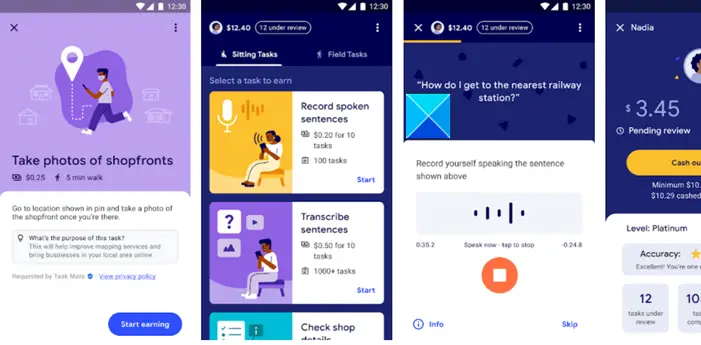 How does the Google Task Mate app works?
It's simple! Small random tasks are to be assigned to users through the application. The tasks can either be 'sitting tasks' or a 'field tasks' offered by Google itself or one of Google's businesses around the world. For Field Tasks, users may be required to walk to some of their nearest landmarks or shops.
Users can also search for 'tasks nearby' and then choose the desired ones to complete. The amount of the task is also displayed next to the task. You can click pictures of a restaurant, answer some survey questions about personal preferences, or assist in translating sentences from English to other languages posted by businesses worldwide.
Also, if a task doesn't interest you or you are unable to do it, you can skip it. Once the task is complete, users can request the payment by registering their e-wallet or payment partner. Google Task Mate will then transfer the funds into their bank account. Fortunately, there's no time limit for how long users can take to complete a task.
Currently, Google Task Mate access is limited to a selected number of users only through a referral code system.
You can download the app from Google Play Store but its activation can be done only through the referral code that is accessible through invite-only.
If you have downloaded the app and used it, share your experience with us in the comments section below!