E-shopping in India has never been so popular. Although a large proportion of the online community in India uses Facebook and Twitter for most part of the day, they are rarely seen shopping online. Somehow they feel it is not safe. Google has decided to change this notion! Similar to Black Friday and Cyber Monday, Google is planning to organize a shopping festival in the country.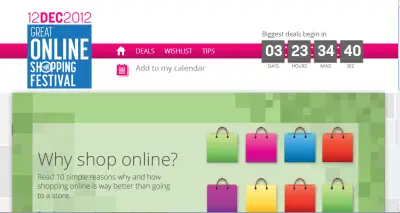 Yes, for the first time ever in an attempt to advocate and popularize online shopping in India the U.S Internet giant is coming up with an online shopping campaign dubbed as Great Indian Online Shopping Festival.
It is going to be a one day campaign and scheduled to be held on Wednesday, December 12th, or 12/12/12. Google is promoting the program via radio channels. The company has partnered with several Indian e-commerce giants such as Flipkart, Myntra, Snapdeal, Pepperfry, Jabong and so on.
Over 50 companies will be joining the campaign, offering not just online shopping, but also travel offers, banking services and more. So, shop your hearts out and get your favorite items online. The products range from gadgets to shoes, clothes, jewellery, apparel and what not, says Google.
The target audience of course is the working class people, who have so far stayed away from e-commerce and have never experienced Online Shopping.
Do visit gosf.in for some essential tips and tricks on shopping online and learning about payment mechanisms.