Humans love telling stories. How our grandfathers fought in the war, how our family emigrated from one place to another. How our parents met, or how we become friends with that person on that tour. We love sharing our stories with our friends and narrate those stories to our children, then grandchildren. Our history books are filled with fascinating stories. Betting on that thought, Google yesterday on the eve of Veterans Day released a new web service named Tour Builder.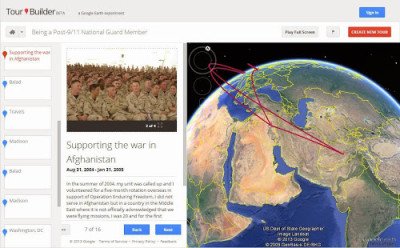 Google Tour Builder
Google Tour Builder helps the story teller inside you to locate those places on the map, adding more value and prospect to them. Using Tour Builder you can locate places, add photos and descriptions to them to reminisce those beautiful memories. You can also use the Street View and see how much those places have changed, obviously in 3D!
But don't get them wrong. Although the tool was launched yesterday on US Veterans Day, it is not just for old folks. If you are a geography or history teacher, using this technology you can help your students get more idea of the world and the past we have had. Just like Bobby Lake in the video below tells about the importance of such technologies in the classrooms.
http://www.youtube.com/watch?v=qYnQ8A7QNig#t=0
Tour Builder is freely available at your service to use. But you will nee the Google Earth plugin to use it.