At Microsoft, something new and unique is always underway. The latest Edge Group tabs & Share extension is a case in point. It is an extremely useful add on that enables Edge users to choose and share data or other related info at the click of a button.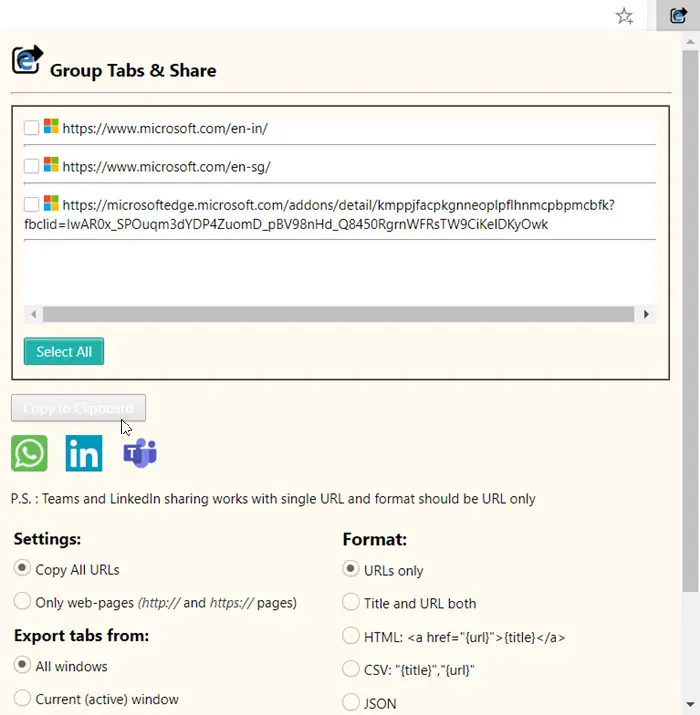 Group Tabs & Share extension for Edge browser
The striking feature of Edge Group tabs & share extension is that the users can readily share the information via URLs, HTML, CSV, as well as JSON. When the extension is added to the browser, an icon becomes visible, adjacent to the address bar. Simply move the mouse cursor over the icon and click it to display the contents of the window. All the tabs currently opened in the browser are listed under it. Here, you can select the tabs individually by checking the boxes marked their address or use 'Select all' button to select all the links at once.
Then, you can copy the tabs to Clipboard by pressing 'Copy to Clipboard' button or share them via,
WhatsApp
LinkedIn
Microsoft Teams
A small description about the extension reads,
This add-on enables you to select and share data, links and other info at the click of a button; helping you save time and effort.

What is even more interesting is that you can also choose the way you would want them to be shared – As – URLs only, HTML, CSV, JSON, it further adds.
Please note that Microsoft Teams and LinkedIn sharing works with single URL and format should be URL only.
Similarly, you can choose to export tabs either from 'Current (active) window' or 'All Windows' by checking the desired option.
Extensions help you optimize the browser experience by adding more functionality to it, without diving intensely into native code. This was something Microsoft Edge was missing for years. However, things seem to have changed for good now. You can take things to the next level with the extensions for the chromium-based browser. You can get the extension here.