Guardian, security app is now available for women worldwide. After helping women in India for one year, this free Windows Phone app will now protect women around the world. Guardian Windows safety application was launched in December 2013 to help preventing violence against women in India.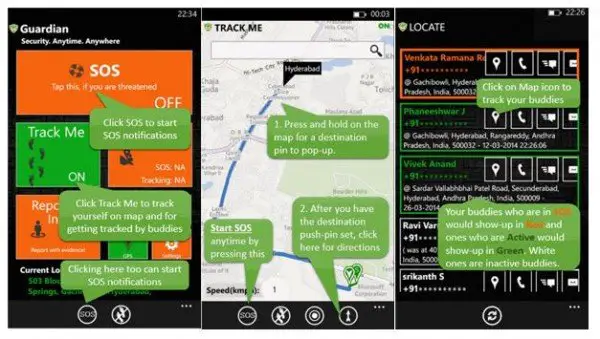 Guardian Security Windows Phone App For Women
This safety application brings a 'track me' feature which allows their friends and family to track them in real time. Available exclusively for Windows Phone users, this app uses Bing Map APIs and Microsoft Windows Azure cloud services to track the phone.
The Bing Maps API helps tracker getting the accurate directions and navigation and the cloud services saves the information in your device. It also let the users send an emergency alert to the friends, family, security agencies, hospitals or police during emergency through an SOS button. All they need to do is to add a few names of friends, family or security groups which will be alerted through SOS in an emergency. A single tap on SOS button sends an alert message as well as emails to all added buddies along with the real time location details.
Guardian Windows app also has a one touch video recording feature which helps users to record the evidence if any. The security allows the phone tracking even if the phone is broken.
You can download the Guardian Windows Security App from the Windows Phone Store for free.