Microsoft has without announcing, launched their new Tech Support website Microsoft Answer Desk. While some may see similarities between it and Apples Genius Bar, one has to wonder, whether Microsoft did actually copy Apple.
Microsoft has always as far as I remember offered Premium Tech Support to users through their Tech Support Hotline. For other Blogs to bash Microsoft as claiming they are ripping ideas off of Apple, let's not forget Gateway. When Gateway came about, they offered these same services back when they opened their first stores in 1996. The new service may seem similar, but I do not believe it is a matter of copying one or the other, but just a sign of the new times when more and more users are looking for answers quickly without sitting on the phone for an hour or two or three.
While the Microsoft Answer Desk does seem new, I believe it's just a revamp from their announced Microsoft Gurus back in 2008.
Hands on with the Microsoft Answer Desk service
To give everyone a quick hands on for how the service works, I decided to give it a try to show everyone how easy the service is to use. Thankfully Microsoft offers a complimentary service to allow me to do this.
If you have a Windows Live ID, you just need to sign and choose a Tech to speak with. If you do not have a Windows Live ID, just enter your info once you select a Tech that is available. The number of Techs so far is limited so it may take you a few minutes before you find an available Tech.
Next it is pretty much like any other website that offers support via chat. The Tech will come on and ask how they may help you. Just enter as much info as you can to get the help you need quickly and efficiently.
In my case I already knew the answer to the question I was asking her, so it was just a matter of going through the motions.
A quick rundown of the question I asked. I have a Dell All In One I received due to someone busting the screen. Somehow in the process the HDD was ruined and I have replaced the HDD.
I asked the Answer Tech – could I use the current COA (Certificate of Authenticity) that is attached to the computer to activate a copy of Windows 7 I downloaded from Microsoft. Her response was that I would need to call the 1-800 number to request a new COA and without a warranty there will likely be a small fee for the sticker.
All of this I already knew but I figured I would do a real life situation for everyone in case their might just be a reader who didn't know.
The chat with the Answer Tech was quick and simple but I did run into an issue with it in the end. There was no way to close the chat window. I waited for a minute or two just in case it was an automatic close but the window just sat there and I had to hit my Back button to close it. I was then presented with a questionnaire page asking me why I left chat. Aside from this little hurdle, I thought the chat was simple to use.
Microsoft Answer Desk Services and Pricing
Premium Software Support for Windows XP, Windows Vista, Windows 7 and Microsoft Office (2003,2007 and 2010) Cost $99.00 More Info.
Advanced PC Tune-Up for PC Optimization, Browser (IE) support, Virus Scan and Helpful Tips and Tricks to keep your PC running smoothly. Cost $99.00 More Info.
Virus Removal and Protection which includes PC Health Diagnostics, Virus Removal, Virus Protection (Microsoft Security Essentials), Tailored PC Security Configuration and Helpful Tips and Tricks to keep you protected. Cost $99.00 More Info.
One-Hour Personal Training for Dedicated One-On-One time with an expert, Learn from home remotely via chat or on the phone, Get the latest Tips and Tricks for using Windows, Office, Photo Editing, Email and all being Tailored to you at your pace. Cost $49.00 More Info.
The service is currently US only. If you visit it from other countries, you may not be able to access it and may get to see the following message.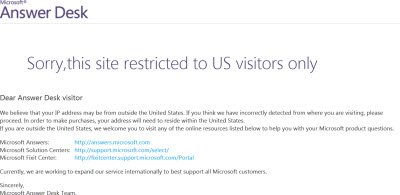 Visit the Microsoft Answer Desk.
Also read: Microsoft Support Phone Number, Live Chat, Email ID, Useful Links.