Expanding its market-leading thin client portfolio, HP announced new hardware and software enhancements to its HP t5740e Thin Client and HP MultiSeat Solution offerings today at Microsoft TechEd.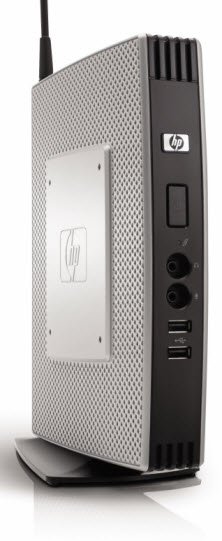 One of the world's best-selling thin clients, the HP t5740e now delivers improved responsiveness and multimedia experiences with up to 15 percent less CPU utilization than before, and simultaneous support for up to four digital displays when configured with new available optional features.
Featuring a choice of the HP t100 or t150 Zero Clients, the HP MultiSeat Solution has been expanded to provide improved end-user performance over previous offerings with the inclusion of the HP Compaq MultiSeat ms6200 Desktop.
HP MultiSeat provides a familiar, individual Windows computing experience to as many as 10 users from the power of a single, efficient, reliable HP business desktop.
Pricing and availability.
The new performance versions of the HP t5740e Thin Client are expected to be available in August 2011:
Broadcom Crystal HD mini-PCIe hardware accelerator for enhanced video playback and graphics performance at $529.
Broadcom Crystal HD mini-PCIe hardware accelerator, plus AMD FirePro 2270 Dual Head PCIe card for dual digital display performance at $669.
Broadcom Crystal HD mini-PCIe hardware accelerator, plus ATI FirePro 2460 Quad Head PCIe card for quad digital display support at $949.
HP MultiSeat, comprising the HP t100 or t150 Zero Clients for MultiSeat and choice of HP Compaq MultiSeat ms6200 or ms6005 Series Desktops, is available now at a starting price of $639.
More information on HP's thin clients and virtualization solutions is available at www.hp.com/go/thincomputing and www.hp.com/go/clientvirtualization.
You can download HP t5740e Thin Client Data Sheet and HP MultiSeat Computing Solution Brief here.