With much enthusiasm, two new 'superphones' have been added to the growing Windows Phone 8 family by HTC, dubbed as Windows Phone 8X and Windows Phone 8S. These are the first phones from HTC with the term 'Windows Phone' right in the names.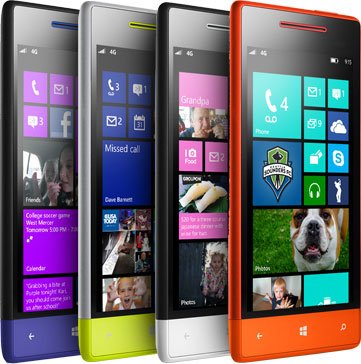 The phones have big screens and eye-catching designs. This time the manufacturer has gone a step beyond to improve and match the sound quality with the software's personality and design. It features Beats Audio technology that helps you get studio-quality sound.
Microsoft CEO Steve Ballmer said:
Pairing HTC's beautiful new Windows Phone 8X and 8S with our brand is a big milestone for both companies. Together we are offering customers a clear choice and a truly unique experience. I'm thrilled to take our longstanding partnership to the next level.
Both the phones look thinner due to a tapered edge and case-back. The 8X is monochrome, unibody polycarbonate while the 8S is two-tone polycarbonate.
Windows Phone 8X Specs
The Windows Phone 8X features a humongous 4.3-inch Super LCD 2 screen, having a resolution of 720p and covered by Gorilla Glass 2 for Protection. It runs 1.5 GHz processor under the hood that gives the phone a decent speed for carrying out various tasks and then there is 16 GB of storage too.
The rear end of HTC Windows Phone 8X accommodates a 8 MP camera for capturing photos and videos in HD quality while its front end houses a 2.1 MP camera for enabling video chatting. It has a resolution of 1080p and 88 degree viewing angle. The angle helps in capturing up to four people or more people at once.
The model comes in 4 different colors,
California Blue
Graphite Black
Flame Red
Limelight Yellow
Windows Phone 8 S Specs
HTC Windows Phone 8S in comparison to its sibling, has a smaller screen size. It has a 4-inch Super LCD display with Gorilla Glass and only 4 GB of internal storage. Processor is 1 GHz dual-core processor.
The Camera too, is less powerful – 5MP at rear end with HTC Image Sense technology. The Windows Phone 8s two-tone polycarbonate body comes in four color combinations.
HTC has declared that the Windows Phone 8X and the Windows Phone 8S will be available on 150-plus carriers in more than 50 countries from November onwards. You might want to also check out comparison chart of iPhone 5 vs HTC Windows Phone 8X vs Nokia Lumia 920 vs Samsung Galaxy S III. Go here to see the Comparison between HTC Windows Phone 8X, Samsung ATIV S and Nokia Lumia 920.