Chinese telecommunication giant Huawei has announced its own search engine (Petal Search), maps service (Petal Maps), and cloud-based word processor called Huawei Docs. The announcement was made at the Huawei Mate 40 series launch event.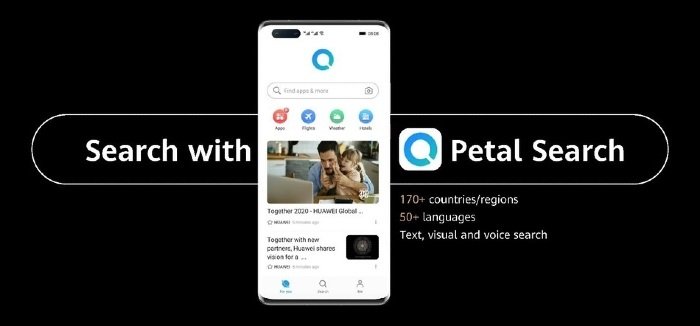 Huawei challenges Google's dominance
Huawei's rapid expansion into digital services is expected to give a major boost to its mobile ecosystem.
"Supported by 2 million global developers, Huawei Mobile Services ecosystem maintains rapid growth," Huawei Business Group said in its press release.
Huawei claims the company is among the top 3 app marketplaces globally, in addition to Google Play Store and Apple App Store.
Huawei Petal Search
Available in more than 170 countries, the Huawei Petal search app will rival Google as a default search engine in Huawei phones. It supports more than 50 languages. Huawei users can search across over 20 categories including apps, news, videos, flights, shopping, local businesses, and more.
"Search results are presented in information cards, as opposed to simple weblinks, to help users get this wealth of useful information instantly with just a few clicks," Huawei added.
Huawei claims Petal Search uses AI capabilities of its handsets, enabling users to search by photos and through its visual search function. It appears that Petal Search recognizes people, animals, and landmarks. The company is also working to implement a new AI feature to help users identify plants.
Huawei Petal has integrated a voice search capability with support for languages such as English, Spanish, French, Arabic, and more.
Huawei Petal Maps
As the name suggests, it's obvious that Petal Maps will rival Google Maps in more than 140 countries. The Petal Maps app offers a GPS-based navigational tool to help Huawei users locate their favorite places. Petal Maps offers real-time public transit updates in major cities to help Huawei users better plan their trips.
Huawei Docs
Last but not least, Huawei Docs supports provides users with the ability to view and edit documents across more than 50 formats (.pdf, .ppt, .docx). With real-time cloud-based synchronization capabilities, the Huawei Docs service is available in more than 100 countries.