NITI Aayog, a policy think tank of the Indian government, has launched a cloud storage service, DigiBoxx, offering "secure" cloud storage of up to 2TB storage for merely INR 30 per month. This premium plan is in addition to the free plan, which gives a single user up to 25GB of free storage, along with exciting features like unlimited external collaborations and a single file size limit of 2GB.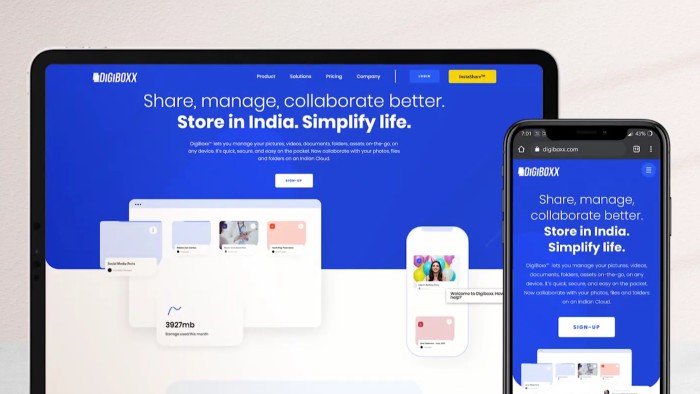 India's Digiboxx to compete with Google, Dropbox
When it comes to the premium plan that costs less than 50 cents a month, users can avail elevated maximum file size limit of 25GB and advanced editing options. DigiBoxx also offers customized plans for SMBs and enterprise customers.
For instance, the dedicated plan for SMBs starts at INR 999 per month, which translates to around $14 per month. This plan offers up to 25TB of secure cloud storage and allows up to 500 members to access it from different devices.
Advanced real-time collaboration, automated backups, platform training, and complete user management are some of the package's additions. An enterprise user can also go for a customized plan to get the desired amount of storage space from DigiBoxx. For this, however, you have to get in touch with the DigiBoxx team.
DigiBoxx says that it would introduce more features like Gmail integration in the near future. Even now, the service claims to offer an ideal environment where users can manage their cloud storage and collaborate with team members.
InstaShare file sharing service also launched
Besides private cloud storage, DigiBoxx has launched a feature called InstaShare — a web service that allows users to share huge files. As you can guess, this is supposed to be a direct competitor to WeShare. However, unlike WeShare, InstaShare requires users to provide their email ID and other credentials before sending a file.
Considering the rates at which DigiBoxx offers its private cloud storage services, the service would become disruptive in the Indian market without a doubt. Whether the think tank has plans to expand the service to users from other countries is another question.
However, the company has advertised that it would be storing all the user information in servers located in India and not overseas. This comes as a solace for many companies and users who are afraid of privacy breaches when using global file-sharing services like Google Drive and Dropbox.
For more information, watch the official website of DigiBoxx.
Read: 10 Best free secure online file sharing and storage services you should be using.