News about the US intelligence agency using tech giants like Microsoft, Google, Apple, Yahoo, Facebook and more to spy on private information of users around the world continues to make rounds. The surveillance program, codenamed PRISM which provides the National Security Agency access to emails, web chats and other communications of users exposes US's data mining activity. The act has shocked the world with many countries objecting the move.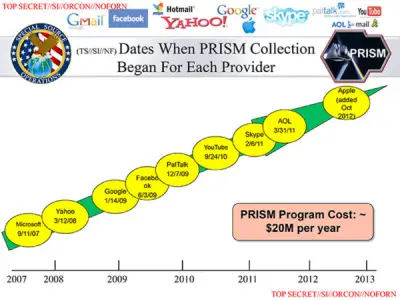 India –  The 5th most tracked country by the US intelligence
As per the latest reports, India is one of the top five countries, widely monitored by US intelligence services. According to Britain's Guardian newspaper, the US National Security Agency collects 6.3 billion pieces of computer data from India each year.
The largest amount of data was gathered from Iran, with more than 14bn reports, followed by 13.5bn from Pakistan. Jordan with 12.7bn, Egypt fourth with 7.6bn and lastly, India fifth with 6.3bn as highlighted above. The United States collects data from countries what it refers as unfriendly countries. So, does this indicate that US' relations with India have turned hostile?
Meanwhile, the Government of India has taken up the issue seriously. National Security Advisor Shivshankar Menon met US Ambassador Nancy Powell and discussed the issue in length along with other bilateral matters.
So far, the official hasn't been briefed about the details on internet snooping by US counterparts. However, it is conveyed that when the details will be available, it would be evaluated to check whether any Indian citizen's rights and Indian privacy laws were violated or not.
It would be "unacceptable" if it is discovered that Indian laws on privacy have been violated by the surveillance launched on web users worldwide by US's intelligence service, the National Security Agency (NSA), said Narayan in a statement, reports IBN.